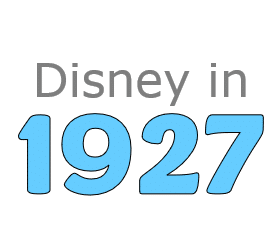 The Walt Disney Company has a rich and lengthy history with decades of amazing movies, shows and park experiences. To commemorate Disney's 100th birthday this year, I am spotlighting the company's history year by year in this new 'Disney by the Years' series.
Here is a quick rundown of everything that happened in the world of Disney in the year 1927. I hope you find this lookback in time helpful and entertaining.
Disney Company Headlines in 1927:
The biggest Disney news in 1927 was the sinister Charles Mintz signing a contract with Universal for the Oswald the Lucky Rabbit cartoon series. This was the beginning of the end for Walt's hopes pf retaining Oswald and the unofficial birth of Mickey.
Also in 1927, Walt's original studio Laugh-O-Gram is deemed bankrupt.
Disney Movies Headlines in 1927:
1927 was a very quiet year for Disney at the box office. The studio was still a year away from Steamboat Willie and a decade separated from its first blockbuster Snow White and the Seven Dwarfs.
The studio did release a number of shorts. Some of these shorts released in 1927 included:
Alice the Golf Bug
Alice Foils the Pirates
Alice at the Carnival
Alice at the Rodeo
Alice the Collegiate
Alice's Auto Race
Alice's Circus Daze
Alice's Knaughty Knight
Alice's Three Bad Eggs
Alice's Picnic
Alice's Channel Swim
Alice in the Klondike
Alice's Medicine Show
Alice the Whaler
Alice the Beach Nut
Alice in the Big League
That's all for 1927. Stay tuned for in-depth looks at additional years in the very near future!