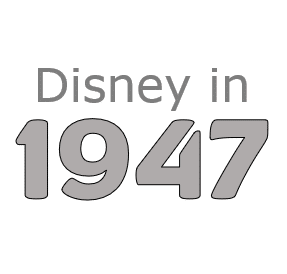 The Walt Disney Company has a rich and lengthy history with decades of amazing movies, shows and park experiences. To commemorate Disney's 100th birthday this year, I am spotlighting the company's history year by year in this new 'Disney by the Years' series.
Here is a quick rundown of everything that happened in the world of Disney in the year 1947. I hope you find this lookback in time helpful and entertaining.
Disney Company Headlines in 1947:
Disney had another relatively quiet year in 1947 still rebounding from the World War with animators slowly returning from their service duty. There were a few highlights during the course of the year though.
A few noteworthy Disney events of 1947 included:
Scrooge McDuck made his debut in late 1947 appearing in the Christmas on Bear Mountain comic.
The iconic Chip 'n' Dale also get their own short in 1947. Although they had appeared in past media, this is the first time they are referred to by name.
Disney Movies Headlines in 1947:
The only feature film released by Disney in 1947 was the two-short compilation movie Fun and Fancy Free on September 27th. Disney also re-issued their animated classic Bambi on Christmas Day.
As was typical for this period, Disney did release a number of shorts throughout the year including:
February 12 – Pluto's Housewarming
March 21 – Rescue Dog
April 18 – Straight Shooters
May 9 – Sleepy Time Donald
May 30 – Figaro and Frankie
June 20 – Clown of the Jungle
July 11 – Donald's Dilemma
August 1 – Crazy with the Heat
August 22 – Bootle Beetle
September 12 – Wide Open Spaces
October 3 – Mickey's Delayed Date
October 31 – Foul Hunting
November 14 – Mail Dog
November 28 – Chip 'n' Dale
December 26 – Pluto's Blue Note
That's all for 1947. Stay tuned for in-depth looks at additional years in the very near future!