Here is everything you need to know about the amazing Disney movie Fun And Fancy Free including casting, reviews, fun facts and more. I hope you find this listing informative and helpful!
Fun And Fancy Free Description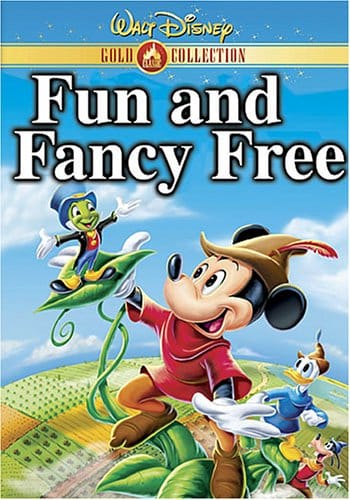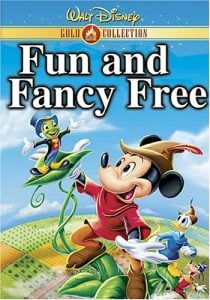 Fun and Fancy Free is a delightful gem that not only sparkles with charm, but is unbelievably rich in history-making Disney moments. It was the last animated feature starring Walt Disney as the voice of Mickey Mouse, and the only film featuring all four of Walt Disney's most famous characters — Mickey Mouse, Donald Duck, Goofy, and Jiminy Cricket. Following Disney's classic tradition of great storytelling, unforgettable characters, music, and adventure,this is the joyful telling of Bongo and Mickey and the Beanstalk, two timeless tales magically brought to life by the beloved Jiminy Cricket and the masterful combination of animation and live action.
---
Fun And Fancy Free Fun Facts
The film was originally planned as two separate feature films, but due to budget constraints and other factors, the decision was made to combine the two stories into one film.
The voice of Bongo is provided by singer and actor Dinah Shore, who was a popular radio and television personality at the time.
The role of Mickey Mouse was originally going to be voiced by Walt Disney himself, but he ultimately decided to let Jimmy MacDonald take on the role.
The film was not a commercial success when it was first released, but it has since become a beloved classic and is often shown on television during the holiday season.
"Fun and Fancy Free" was the last Disney animated feature film to be released during World War II, as the studio shifted its focus to producing educational and propaganda films for the war effort.
---
Fun And Fancy Free Cast:
Edgar Bergen: himself, Charlie McCarthy, and Mortimer Snerd
Luana Patten: herself
Dinah Shore: singer, narrator of Bongo
Cliff Edwards: Jiminy Cricket
Walt Disney: Mickey Mouse
Clarence Nash: Donald Duck
Pinto Colvig: Goofy
Billy Gilbert: Willie the Giant
Anita Gordon: singing harp
The King's Men: Happy Valley crows
---
Fun And Fancy Free Crew:
Directors: Jack Kinney, Bill Roberts, Hamilton Luske and William Morgan
Producer: Walt Disney
Writers: Homer Brightman, Eldon Dedini, Lance Nolley, Tom Oreb, Harry Reeves and Ted Sears
Music: Oliver Wallace, Paul Smith, Eliot Daniel and Charles Wolcott
---
Fun And Fancy Free Details
Fun And Fancy Free Trailer:
---