Here is everything you need to know about the amazing Disney World restaurant Boma including history, reviews, fun facts, photos and more. I hope you find this listing informative and helpful!
Description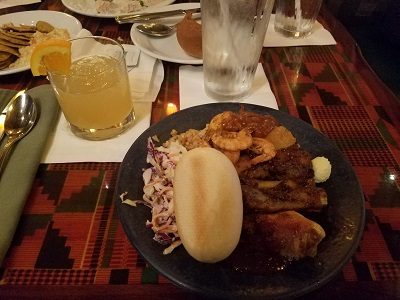 Boma – Flavors of Africa is an immersive buffet-style restaurant located at Disney's Animal Kingdom Lodge at Walt Disney World Resort in Florida. The restaurant offers guests a unique and diverse dining experience inspired by the flavors and culinary traditions of Africa.
The name "Boma" refers to a traditional African gathering place, usually situated around a central fire, where people come together to eat, socialize, and share stories. The restaurant's theming reflects this communal spirit, creating a warm and inviting atmosphere for guests.
As part of the dining offerings at Disney's Animal Kingdom Lodge, Boma – Flavors of Africa features an impressive array of dishes representing the various regions of Africa. The buffet offers a wide selection of salads, soups, stews, grilled meats, vegetarian options, and delectable desserts, all prepared with authentic African spices and ingredients.
Guests can savor unique and flavorful dishes, such as bobotie, injera bread, peri-peri chicken, and many more, providing an opportunity to explore the diverse tastes of the African continent.
In addition to the delicious food, Boma also offers a selection of South African wines and other African-inspired beverages, allowing guests to further immerse themselves in the flavors of Africa.
The restaurant's setting complements the rich theming of Disney's Animal Kingdom Lodge, which features a design inspired by traditional African lodges and savanna landscapes. Guests can enjoy their meal in a beautifully decorated dining room adorned with African artwork and artifacts, creating an authentic and culturally immersive experience.
Boma – Flavors of Africa is a popular dining destination for guests seeking a unique and adventurous culinary experience. It offers a perfect blend of delicious food, cultural theming, and the warm hospitality for which Disney is known, making it a memorable and delightful dining experience during a stay at Disney's Animal Kingdom Lodge.
---
Important Details
---
Reviews
---