Here is everything you need to know about the amazing Disney World restaurant Geyser Point Bar and Grill including history, reviews, fun facts, photos and more. I hope you find this listing informative and helpful!
Geyser Point Bar and Grill Description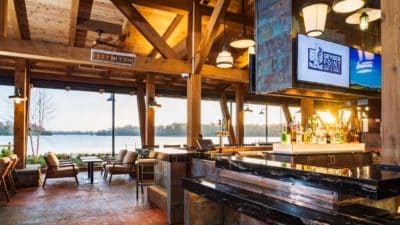 Geyser Point Bar and Grill is a restaurant at the Wilderness Lodge Resort in Walt Disney World.
Feast al fresco with delectable bites to grab 'n' go while enjoying the Resort's rustic beauty. Nestled in the heart of Disney's Wilderness Lodge, this scenic outpost boasts a walk-up window for dining from the comfort of your lounge chair or at a table on the restaurant's spacious outdoor deck.
Satisfy your palate with hearty lunch and dinner selections that include a bison burger topped with Tillamook cheddar, savory smoked turkey sandwich or grilled Portobello salad with zucchini, roasted red peppers, tomato, multigrains and goat cheese dressing.
If you're hankering for a sweet treat, try the chocolate brownie mousse with caramel popcorn and toasted meringue, apple cider sorbet or a house-made seasonal pie that's simply divine.
Don't forget the kiddos! Little explorers can take a timeout from pool play and refuel with Disney Check meals featuring grilled chicken strips or a finger food sampler. (source)
---
Geyser Point Bar and Grill Details
---
Geyser Point Bar and Grill Reviews
---
---