Here is everything you need to know about the amazing Touchstone Pictures movie 10 Things I Hate About You including casting, reviews, fun facts and more. I hope you find this listing informative and helpful!
10 Things I Hate About You Description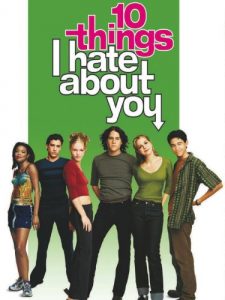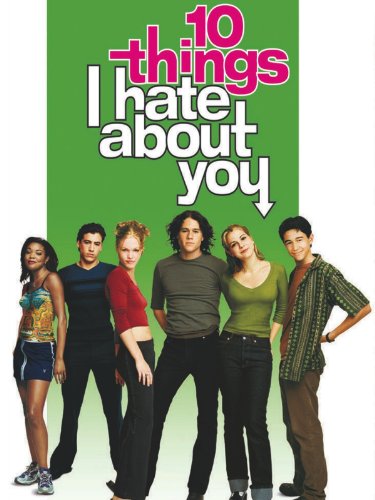 "10 Things I Hate About You" is a romantic comedy film released in 1999, directed by Gil Junger. The movie is a modern adaptation of William Shakespeare's play "The Taming of the Shrew" and is set in a high school setting.
The story revolves around the Stratford sisters, Kat (Julia Stiles) and Bianca (Larisa Oleynik). Their overprotective father, Walter Stratford (Larry Miller), has a strict rule that Bianca cannot date until her older sister, Kat, does.
Cameron James (Joseph Gordon-Levitt), a new student at the school, becomes smitten with Bianca and hatches a plan to get her to date by finding a boyfriend for Kat. He enlists the help of bad boy Patrick Verona (Heath Ledger) to win over the tough and independent Kat.
As Patrick tries to woo Kat, the two find themselves developing genuine feelings for each other. At the same time, Bianca faces the dilemma of choosing between the boy she likes and her father's strict rules.
"10 Things I Hate About You" is a delightful and witty coming-of-age film that blends romance, humor, and teenage drama. The film's screenplay is cleverly written, incorporating modern language and humor while maintaining the essence of Shakespeare's original play.
The performances of the young cast, particularly Heath Ledger and Julia Stiles, have been widely praised, adding depth and charm to their characters. The film also features memorable supporting roles, including David Krumholtz as Michael, Andrew Keegan as Joey, and Gabrielle Union as Chastity.
The film's soundtrack, featuring popular songs from the late 1990s, has also become iconic and adds to the film's nostalgic appeal.
"10 Things I Hate About You" was well-received by critics and became a commercial success. It has since become a beloved touchstone for fans of romantic comedies, appealing to audiences of all ages with its endearing characters, witty dialogue, and heartwarming themes of love, self-discovery, and the complexities of relationships during the high school years.
---
10 Things I Hate About You Cast:
Julia Stiles: Katarina "Kat" Stratford
Heath Ledger: Patrick Verona
Joseph Gordon-Levitt: Cameron James
Larisa Oleynik: Bianca Stratford
Larry Miller: Walter Stratford
Andrew Keegan: Joey Donner
David Krumholtz: Michael Eckman
Susan May Pratt: Mandella
Gabrielle Union: Chastity Church
Daryl Mitchell: Mr. Morgan
Allison Janney: Ms. Perky
David Leisure: Mr. Chapin
Greg Jackson: "Scurvy"
Kyle Cease: Bogey Lowenstein
---
10 Things I Hate About You Crew:
Director: Gil Junger
Publishers: Andrew Lazar
Writers: Karen mcCullah and Kirsten Smith
---
10 Things I Hate About You Details
10 Things I Hate About You Trailer:
---