Here is everything you need to know about the amazing Touchstone Pictures movie 10 Things I Hate About You including casting, reviews, fun facts and more. I hope you find this listing informative and helpful!
10 Things I Hate About You Description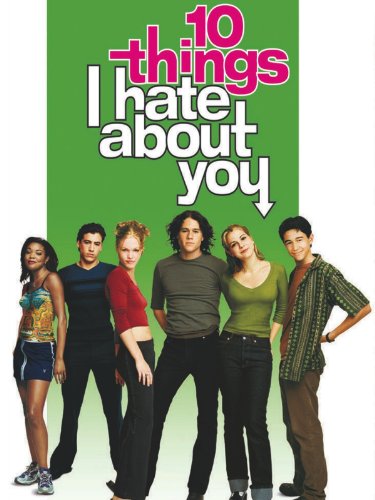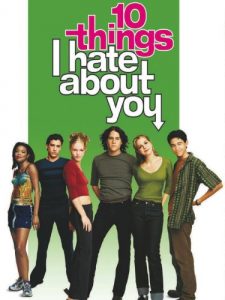 On the first day at his new school, Cameron (Joseph Gordon-Levitt) instantly falls for Bianca (Larisa Oleynik), the gorgeous girl of his dreams. The only problem is that Bianca is forbidden to date … until her ill-tempered, completely un-dateable older sister Kat (Julia Stiles) goes out too! In an attempt to solve his problem, Cameron singles out the only guy who could possibly be a match for Kat: a mysterious bad-boy (Heath Ledger) with a nasty reputation of his own! This witty comedy is a wildly entertaining look at exactly how far some guys will go to get a date!
---
10 Things I Hate About You Cast:
Julia Stiles: Katarina "Kat" Stratford
Heath Ledger: Patrick Verona
Joseph Gordon-Levitt: Cameron James
Larisa Oleynik: Bianca Stratford
Larry Miller: Walter Stratford
Andrew Keegan: Joey Donner
David Krumholtz: Michael Eckman
Susan May Pratt: Mandella
Gabrielle Union: Chastity Church
Daryl Mitchell: Mr. Morgan
Allison Janney: Ms. Perky
David Leisure: Mr. Chapin
Greg Jackson: "Scurvy"
Kyle Cease: Bogey Lowenstein
---
10 Things I Hate About You Crew:
Director: Gil Junger
Publishers: Andrew Lazar
Writers: Karen mcCullah and Kirsten Smith
---
10 Things I Hate About You Details
Movie Studio: Touchstone Pictures
Year Released: 1999
Type of Movie: Live Action
Box Office: $53.5 million
10 Things I Hate About You Trailer:
---