Here is everything you need to know about the amazing Hollywood Pictures movie A Stranger Among Us including casting, reviews, fun facts and more. I hope you find this listing informative and helpful!
A Stranger Among Us Description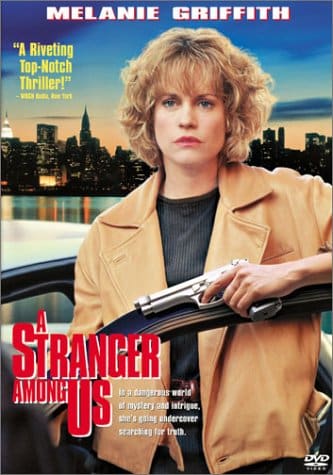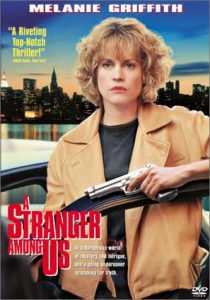 Melanie Griffith turns in a winning performance as detective Emily Eden, a tough New York City cop forced to go undercover to solve a puzzling murder. Her search for the truth takes her into a secret world of unwritten law and unspoken power, a world where the only way out is deeper in!
---
A Stranger Among Us Cast:
Melanie Griffith — Emily Eden
Eric Thal — Ariel
Mia Sara — Leah
Tracy Pollan — Mara
John Pankow — Levine
Jamey Sheridan — Nick
James Gandolfini — Anthony Baldessari
Chris Latta — Christopher Baldessari
Jake Weber — Yaakov Klausman
David Margulies — Lt. Oliver
Rena Sofer — Shayna Singer
---
A Stranger Among Us Crew:
Director: Sidney Lumet
Producers: Steve Golin, Howard Rosenman, Sigurjón Sighvatsson
Writer: Robert Avrech
---
A Stranger Among Us Details
A Stranger Among Us Trailer:
---