Here is everything you need to know about the amazing Disney movie Bedknobs and Broomsticks including casting, reviews, fun facts and more. I hope you find this listing informative and helpful!
Description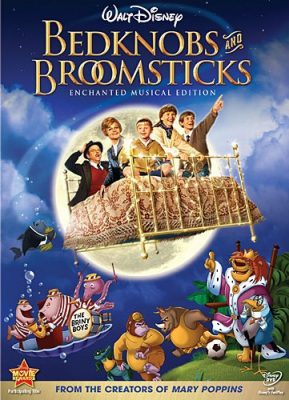 "Bedknobs and Broomsticks" is a live-action/animated musical fantasy film released in 1971, produced by Walt Disney Productions. The movie was directed by Robert Stevenson and stars Angela Lansbury, David Tomlinson, and Roddy McDowall in the lead roles.
The story is set in England during World War II and follows Eglantine Price (played by Angela Lansbury), a spinster who is studying to become a witch. She is given a set of magical bedknobs by the mysterious Professor Emelius Browne (played by David Tomlinson). The bedknobs have the power to make a bed fly when they are twisted.
When three London children, Charlie (played by Ian Weighill), Carrie (played by Cindy O'Callaghan), and Paul (played by Roy Snart), are sent to live in the countryside with Eglantine for safety during the war, they discover her secret. Eglantine decides to use her magic to help the war effort and protect the children from the dangers of the Blitz.
Together, Eglantine and the children embark on a magical adventure using her broomstick and bedknobs to travel to various locations. They encounter an animated island of anthropomorphic animals, a thrilling soccer match, and a battle against invading German forces.
The film is known for its blend of live-action and animated sequences, featuring a mix of traditional animation and special effects, which was groundbreaking at the time of its release.
"Bedknobs and Broomsticks" received critical acclaim and was nominated for five Academy Awards, winning the Oscar for Best Visual Effects. The movie was praised for its imaginative storytelling, charming characters, and memorable musical numbers.
The film's musical score, composed by the Sherman Brothers, features several delightful songs, including "The Age of Not Believing" and "Portobello Road," which have become beloved classics in the Disney canon.
"Bedknobs and Broomsticks" is a timeless family classic that combines fantasy, adventure, and heartwarming moments. It remains a favorite among Disney fans, enchanting audiences with its whimsical and magical tale of courage, friendship, and the power of believing in oneself.
---
Bedknobs and Broomsticks Fun Facts
Bedknobs and Broomsticks was the last Disney movie released before Roy Disney's death.
Bedknobs and Broomsticks was originally 2.5 hours long when it premiered.
---
Crew:
Director: Robert Stevenson
Producer: Bill Walsh
Music: Irwin Kostal
---
Additional Details
---
Bedknobs and Broomsticks Trailer:
---