Here is everything you need to know about the amazing Hollywood Pictures movie Before and After including casting, reviews, fun facts and more. I hope you find this listing informative and helpful!
Before and After Description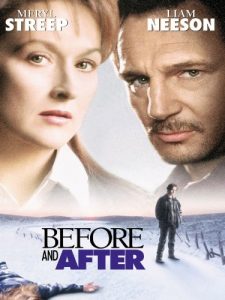 "Before and After" is a drama film released in 1996, directed by Barbet Schroeder. The movie is based on the novel of the same name by Rosellen Brown and stars Meryl Streep and Liam Neeson in the lead roles.
The story revolves around Carolyn (played by Meryl Streep) and Ben Ryan (played by Liam Neeson), a well-to-do couple living in a small town with their two children, Jacob (played by Edward Furlong) and Judith (played by Julia Weldon). Their seemingly idyllic life is shattered when their son Jacob is accused of murdering his girlfriend, Martha Taverner (played by Alison Folland).
As the murder investigation unfolds, Carolyn and Ben are faced with the overwhelming reality that their son may be a cold-blooded killer. In a desperate attempt to protect their family and their reputation, they take drastic measures to cover up any possible evidence that might link Jacob to the crime.
The film delves into themes of parental love, deception, and the lengths to which parents are willing to go to protect their children. It explores the complexities of family dynamics and the moral dilemmas faced by the characters as they grapple with the truth and its consequences.
As the investigation progresses, the Ryans must confront their own guilt, fears, and the possibility that their son may indeed be guilty. The tension escalates as the truth unravels, leading to a heartbreaking climax that challenges the concept of unconditional love and loyalty within a family.
"Before and After" received mixed reviews from critics upon its release. While praised for the performances of Meryl Streep and Liam Neeson, the film was criticized for its uneven pacing and the lack of emotional depth in some of the characters.
Despite the mixed reception, "Before and After" remains a thought-provoking drama that explores the intricacies of family relationships and the consequences of one's actions. It serves as a poignant examination of the lengths people will go to protect those they love, even when faced with difficult and morally ambiguous choices.
Overall, "Before and After" is a compelling drama that skillfully navigates the complexities of family dynamics and the impact of tragic events on the lives of its characters. It serves as a reminder of the fragility of family bonds and the profound impact of love and loyalty in times of crisis.
---
Before and After Cast:
Meryl Streep: Dr. Carolyn Ryan
Liam Neeson: Ben Ryan
Edward Furlong: Jacob Ryan
Julia Weldon: Judith Ryan
Alfred Molina: Panos Demeris
Daniel von Bargen: Fran Conklin
John Heard: Wendell Bye
Ann Magnuson: Terry Taverner
Alison Folland: Martha Taverner
Larry Pine: Dr. Tom McAnally
Kaiulani Lee: Marian Raynor
---
Before and After Crew:
Director: Barbet Schroeder
Producers: Barbet Schroeder, Joe Roth, Susan Hoffman and Roger Birnbaum
Screenplay: Ted Tally
---
Before and After Details
Before and After Trailer:
---