Here is everything you need to know about the amazing Disney movie Blackbeard's Ghost  including casting, reviews, fun facts and more. I hope you find this listing informative and helpful!
Blackbeard's Ghost  Description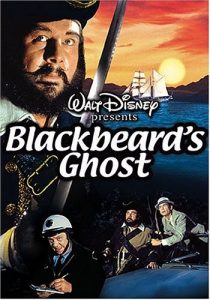 In the Disney classic film Blackbeard's Ghost, Legendary Pirate Blackbeard, the once blackhearted scoundrel materializes in a small New England town, cursed to wander in limbo until he performs a good deed. He gets his chance when he decides to help a local college track team that hasn't a ghost of a chance of winning!
---
Blackbeard's Ghost  Cast:
Peter Ustinov as Captain Blackbeard
Dean Jones as Steve Walker
Suzanne Pleshette as Jo Anne Baker
Elsa Lanchester as Emily Stowecroft
Joby Baker as Silky Seymour
Elliott Reid as TV commentator
Richard Deacon as Principal Roland Wheaton
Norman Grabowski as Virgil
Kelly Thordsen as Motorcycle Cop
Michael Conrad as Pinetop Purvis
Herbie Faye as Croupier
George Murdock as Head official
Hank Jones as Gudger Larkin
Ned Glass as Teller
Gil Lamb as Waiter
Alan Carney as Bartender
Ted Markland as Charles
Lou Nova as Leon
Charlie Brill as Edward
Herb Vigran as Danny Oly
William Fawcett as Mr. Ainsworth
Betty Bronson as Old Lady
Elsie Baker as Old Lady
Kathryn Minner as Old Lady
Sara Taft as Old Lady
Blackbeard's Ghost  Details
Blackbeard's Ghost  Trailer:
Buy Movie
---
---