Here is everything you need to know about the amazing Hollywood Pictures movie Blood in Blood Out including casting, reviews, fun facts and more. I hope you find this listing informative and helpful!
Blood in Blood Out Description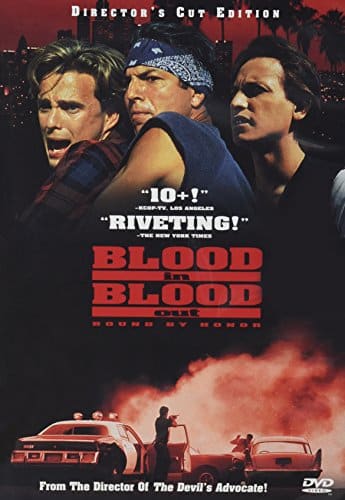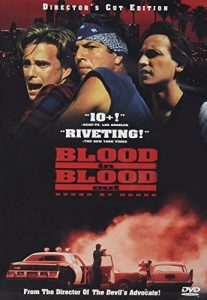 Now, from the director of THE DEVIL'S ADVOCATE comes BLOOD IN … BLOOD OUT, a critically acclaimed modern-day epic. Within the rich and colorful Chicano culture of East Los Angeles, three cousins raised as brothers fiercely live by a generations-old tradition of family — a power stronger than law, a force deeper than friendship. In one life-shattering moment, the trio is torn apart, forcing them to follow three separate paths: one searching for truth in the law, one expressing his passion through art, and one finding power in prison. Yet through it all, family and honor keep their lives intertwined as each strives for survival and power!
---
Blood in Blood Out Cast:
Damian Chapa: Miklo Velka
Jesse Borrego: Cruz Candelaria
Benjamin Bratt: Paco Aguilar
Enrique Castillo: Montana Oseguera
Delroy Lindo: Bonafide
Victor Rivers: Magic
Tom Towles: Red Ryder
Carlos Carrasco: Popeye
Theodore Wilson: Wallace
Raymond Cruz: Chuey
Valente Rodriguez: Frankie
Lanny Flaherty: Big Al
Billy Bob Thornton: Lightning
Danny Trejo: Geronimo
Victor Mohica: Mano
Luis Contreras: Realthing
Ving Rhames: Ivan
Richard Masur: Prison librarian
Thomas F. Wilson: Rollie McCann
Lupe Ontiveros: Carmen
---
Blood in Blood Out Crew:
Director: Taylor Hackford
Producer: Taylor Hackford and Jerry Gershwin
Screenplay: Jimmy Santiago Baca, Jeremy Iacone, Floyd Mutrux
Music: Bill Conti
---
Blood in Blood Out Details
Blood in Blood Out Trailer:
---