Here is everything you need to know about the amazing Hollywood Pictures movie Breakfast of Champions including casting, reviews, fun facts and more. I hope you find this listing informative and helpful!
Description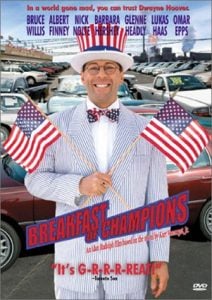 "Breakfast of Champions" is a dark comedy film released in 1999, directed by Alan Rudolph. The movie is based on the novel of the same name by Kurt Vonnegut Jr., who also wrote the screenplay. It stars Bruce Willis, Albert Finney, and Nick Nolte in the lead roles.
The story centers around Dwayne Hoover (played by Bruce Willis), a successful but mentally unstable car salesman who becomes obsessed with the idea that everyone around him is a robot. As he descends into madness, Dwayne comes across Kilgore Trout (played by Albert Finney), a struggling and reclusive science fiction writer whose work Dwayne interprets as a message about his own reality.
Kilgore Trout is invited to a convention in the fictional Midland City, where he crosses paths with Dwayne. Their lives intertwine in a series of bizarre and surreal events, leading to a fateful meeting between the two men.
Throughout the film, "Breakfast of Champions" explores themes of sanity, identity, and the blurred lines between reality and illusion. The narrative is filled with absurdist humor and dark satire, reflecting the unconventional and thought-provoking style of Kurt Vonnegut's writing.
The film received mixed reviews from critics, with some praising the performances of Bruce Willis and Albert Finney and the film's bold and daring approach to storytelling. However, others found the movie to be overly chaotic and disjointed, struggling to capture the complexity and depth of Vonnegut's novel.
"Breakfast of Champions" is often considered a challenging adaptation of Vonnegut's work, as the novel's unconventional narrative and philosophical themes are difficult to translate to the screen. As a result, the film remains polarizing among audiences, with some appreciating its unique and daring approach, while others find it confusing and unfocused.
Despite its mixed reception, "Breakfast of Champions" is an intriguing and ambitious film that offers a surreal and thought-provoking exploration of the human mind and the nature of reality. It serves as a tribute to the distinctive style of Kurt Vonnegut's writing and his ability to blend humor with profound philosophical insights.
---
Cast:
Bruce Willis as Dwayne Hoover
Albert Finney as Kilgore Trout
Nick Nolte as Harry LeSabre
Barbara Hershey as Celia Hoover
Glenne Headly as Francine Pefko
Valerie Perrine as Montana Wildhack
Lukas Haas as George "Bunny" Hoover
Omar Epps as Wayne Hoobler
Vicki Lewis as Grace LeSabre
Buck Henry as Fred T. Barry
Ken Campbell as Eliot Rosewater / Gilbert
Jake Johanssen as Bill Bailey
Will Patton as Moe the truck driver
Chip Zien as Andy Wojeckowzski
Owen Wilson as Monte Rapid
Alison Eastwood as Maria Maritimo
Shawnee Smith as Bonnie McMahon
Michael Jai White as Howell
Michael Duncan as Eli
Kurt Vonnegut, Jr. as Commercial director
---
Crew:
Director: Alan Rudolph
Producers: David Blocker and David Willis
Screenplay: Alan Rudolph
---
Additional Details
---
Breakfast of Champions Trailer:
---