Here is everything you need to know about the amazing Hollywood Pictures movie Color of Night including casting, reviews, fun facts and more. I hope you find this listing informative and helpful!
Description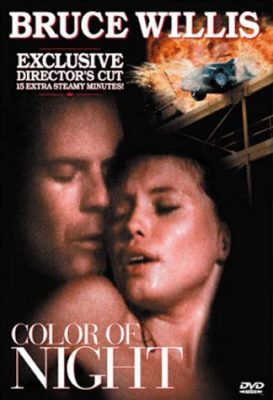 "Color of Night" is a psychological thriller film released in 1994, directed by Richard Rush. The movie stars Bruce Willis and Jane March in the lead roles.
The story revolves around Dr. Bill Capa (played by Bruce Willis), a New York City psychologist who is deeply affected by the suicide of one of his patients. Traumatized by the incident, Bill decides to take a break from his practice and travels to Los Angeles to spend time with his old friend and fellow psychologist, Dr. Bob Moore (played by Scott Bakula).
In Los Angeles, Bill joins a therapy group led by Bob, where he meets various eccentric and troubled individuals. Among them is Rose, a mysterious and alluring woman (played by Jane March), who quickly captures Bill's attention.
However, things take a dark turn when members of the therapy group are brutally murdered one by one, leading Bill to suspect that the killer is someone from the group. As he becomes entangled in a dangerous game of cat and mouse, Bill finds himself in a psychological battle with the murderer, unraveling hidden secrets and confronting his own troubled past.
"Color of Night" is known for its explicit sexual content and controversial themes, including depictions of mental illness and violence. The film's dark and erotic tone divided critics and audiences, with some praising its atmospheric style and Bruce Willis's performance, while others criticized its lurid and exploitative nature.
Upon its release, "Color of Night" received negative reviews and was a commercial disappointment. It earned several nominations at the Razzie Awards, including Worst Picture and Worst Actor for Bruce Willis. Despite its initial poor reception, the film has developed a cult following over the years, particularly among fans of psychological thrillers and erotic cinema.
"Color of Night" is a bold and provocative film that explores the depths of the human psyche and the blurred lines between reality and illusion. It delves into themes of obsession, desire, and the darker aspects of human nature, making it a compelling and unsettling watch for those who appreciate edgy and psychological thrillers.
---
Cast:
Bruce Willis: Dr. Bill Capa
Jane March: Rose Dexter/Richie Dexter
Ruben Blades: Lt. Hector Martinez
Lesley Ann Warren: Sondra Dorio
Scott Bakula: Dr. Bob Moore
Brad Dourif: Clark
Lance Henriksen: Buck
Kevin J. O'Connor: Casey Heinz
Eriq La Salle: Officer Anderson
Andrew Lowery: Dale Dexter
Kathleen Wilhoite: Michelle
Jeff Corey: Dr. Larry Ashland
Shirley Knight: Edith Niedelmeyer
---
Crew:
Director: Richard Rush
Producer: Buzz Feitshans, David Matalon and Andrew Vajna
Screenplay: Billy Ray and Matthew Chapman
---
Additional Details
Movie Studio: Hollywood Pictures
Year Released: 1994
Type of Movie: Live Action
Box Office: $19.7 million
Awards: Nominated Golden Globe
---
Color of Night Trailer:
---