Here is everything you need to know about the amazing Touchstone Pictures movie Dan in Real Life including casting, reviews, fun facts and more. I hope you find this listing informative and helpful!
Dan in Real Life Description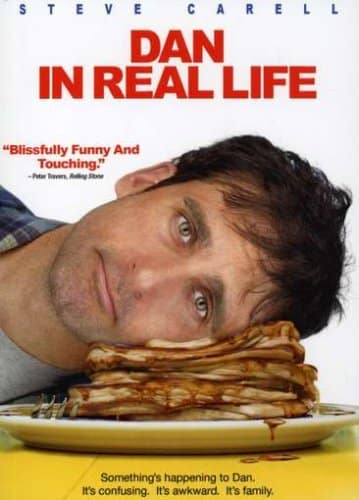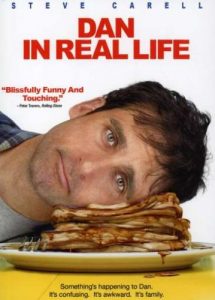 Steve Carell, Hollywood's leading funnyman, stars in the hilarious comedy that's bursting with charm — a movie you'll watch again and again. Advice columnist Dan Burns (Carell) is an expert on relationships, but somehow struggles to succeed as a brother, a son and a single parent to three precocious daughters. Things get even more complicated when Dan finds out that the woman he falls in love with is actually his brother's new girlfriend. Carell is joined by a brilliant all-star supporting cast, including Juliette Binoche, Dane Cook, John Mahoney and Dianne Wiest, for a heartfelt, fun-filled comedy.
---
Dan in Real Life Cast:
Steve Carell: Dan Burns
Alison Pill: Jane Burns
Britt Robertson: Cara Burns
Marlene Lawston: Lilly Burns
Dane Cook: Mitch Burns
Juliette Binoche: Marie Diamond
John Mahoney: John "Poppy" Burns
Dianne Wiest: Nana Burns
Norbert Leo Butz: Clay Burns
Jessica Hecht: Amy Burns
Amy Ryan: Eileen Burns
Frank Wood: Howard Wilson
Emily Blunt: Dr. Ruthie "Pigface" Draper
Felipe Dieppa: Marty
Bernie McInerney: James Lamson
Amy Landecker: Cindy Lamson
Matthew Morrison: Policeman
Stephen Mellor: Bookstore Clerk
CJ Adams: Elliot Burns
Shana Carr: Suzanne Burns
Lucas Hedges: Lily's Dance Partner
---
Dan in Real Life Crew:
Director: Peter Hedges
Producer: Jonathan Shestack
Writers: Pierce Gardner and Peter Hedges
---
Dan in Real Life Details
Movie Studio: Touchstone Pictures
Year Released: 2007
Type of Movie: Live Action
Box Office: $68.4 million
Dan in Real Life Trailer:
---