Here is everything you need to know about the amazing Touchstone Pictures movie Disorganized Crime including casting, reviews, fun facts and more. I hope you find this listing informative and helpful!
Disorganized Crime Description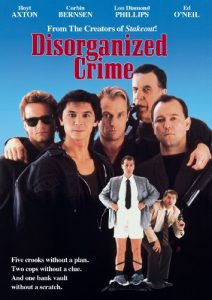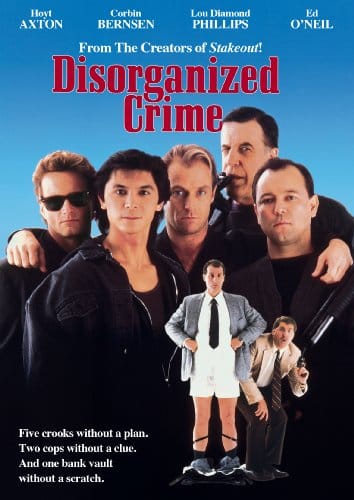 Lou Diamond Phillips and Fred Gwynne team up with a gang of professional criminals who have everything it takes to rob a bank — except their boss, Corbin Bernsen, a car, and a plan. The only things they do have going for them are two cops, Ed O'Neill and his partner, who are dumber than they are! By the time the gang hits the bank vault, it's a safe bet there's going to be organized insanity — and disorganized crime!
---
Disorganized Crime Cast:
Fred Gwynne: Max Green
Lou Diamond Phillips: Ray Forgy
Rubén Blades: Carlos Barrios
William Russ: Nick Bartkowski
Corbin Bernsen: Frank Salazar
Ed O'Neill: George Denver
Daniel Roebuck: Bill Lonigan
Hoyt Axton: Sheriff Henault
---
Disorganized Crime Crew:
Director: Jim Kouf
Producer: Lynn Bigelow
Writer: Jim Kouf
---
Disorganized Crime Details
Movie Studio: Touchstone Pictures
Year Released: 1989
Type of Movie: Live Action
Box Office: $7.7 million
Disorganized Crime Trailer:
Buy Movie
---