Here is everything you need to know about the amazing Hollywood Pictures movie Eddie including casting, reviews, fun facts and more. I hope you find this listing informative and helpful!
Eddie Description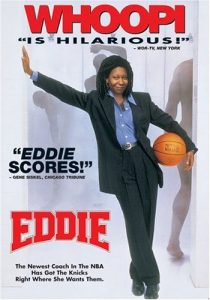 "Eddie" is a sports comedy film released in 1996, directed by Steve Rash. The movie stars Whoopi Goldberg as Edwina "Eddie" Franklin, Frank Langella as Wild Bill Burgess, and Dennis Farina as Coach John Bailey.
The story follows Edwina "Eddie" Franklin, a die-hard New York Knicks basketball fan who works as a limousine dispatcher. One day, during a halftime promotion, Eddie's enthusiastic and passionate behavior catches the attention of the Knicks' owner, Wild Bill Burgess.
Impressed by her love for the game and her connection with the fans, Wild Bill decides to hire Eddie as the new head coach of the struggling Knicks team. Eddie becomes the first female coach in NBA history, and her appointment generates a mix of excitement and skepticism among players, fans, and the media.
As Eddie takes on the challenge of coaching a professional basketball team, she faces various obstacles and proves herself as a capable and inspirational leader. She brings a fresh and unconventional approach to coaching, emphasizing teamwork, unity, and the joy of playing the game.
"Eddie" is known for its lighthearted and feel-good tone, as well as Whoopi Goldberg's charismatic performance. The film celebrates the power of sports to unite people and break down barriers, emphasizing the importance of passion, dedication, and inclusivity in the world of sports.
While "Eddie" received mixed reviews from critics, it has become a favorite among basketball fans and those who enjoy sports-themed comedies.
"Eddie" serves as a touchstone for viewers seeking an uplifting and entertaining sports comedy that champions the spirit of underdogs and celebrates the transformative power of sports. It remains an enjoyable and inspiring film that shows the impact one person's passion and determination can have on a team and a community.
---
Eddie Cast:
Whoopi Goldberg: Edwina "Eddie" Franklin
Frank Langella: William "Wild Bill" Burgess
Dennis Farina: Coach John Bailey
Richard Jenkins: Carl Zimmer
Lisa Ann Walter: Claudine
John Benjamin Hickey: Joe Nader
John Salley: Nate Wilson
Mark Jackson: Darren "Preachor" Taylor
Malik Sealy: Stacy Patton
Dwayne Schintzius: Ivan Radovadovitch
John DiMaggio: construction worker
---
Eddie Crew:
Director: Steve Rash
Producers: David Permut and Mark Burg
Screenplay: Jon Connoly, David Loucka, Eric Champnella, Keith Mitchell, Steve Zacharias and Jeff Buhai
---
Eddie Details
Eddie Trailer:
---