Here is everything you need to know about the amazing Touchstone Pictures movie Ernest Saves Christmas  including casting, reviews, fun facts and more. I hope you find this listing informative and helpful!
Ernest Saves Christmas  Description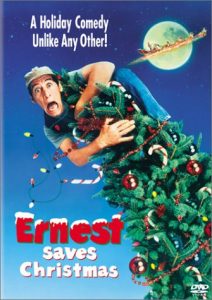 "Ernest Saves Christmas" is a comedy film released by Touchstone Pictures in 1988. Directed by John R. Cherry III, the movie stars Jim Varney as Ernest P. Worrell, a loveable but bumbling character known for his catchphrase, "Hey, Vern!"
The story centers around Santa Claus, portrayed by Douglas Seale, who is looking for a successor to take over the role of Santa. Santa discovers that Joe Carruthers, a has-been children's show host played by Oliver Clark, is the perfect person for the job. However, Joe is reluctant to take on the responsibility, and Santa must convince him to embrace the spirit of Christmas.
Enter Ernest, a kind-hearted but somewhat clumsy taxi driver, who inadvertently gets involved in Santa's mission. Through a series of mishaps and hilarious adventures, Ernest teams up with Santa to help him find Joe and spread Christmas cheer.
Throughout the film, Ernest's good intentions and childlike wonder add heartwarming moments to the comedic story. His childlike innocence and genuine belief in the magic of Christmas contrast with the jadedness of the adult characters, making him a lovable and relatable protagonist.
"Ernest Saves Christmas" is a feel-good holiday film that emphasizes the importance of spreading joy, believing in the spirit of Christmas, and cherishing the magic of the holiday season. It mixes slapstick humor with heartwarming messages, making it a favorite among families during the festive time of year.
Jim Varney's portrayal of Ernest was a standout in the film, and his comedic talent brought charm and laughter to the character. The movie's success led to a series of other films featuring Ernest, including "Ernest Goes to Camp" and "Ernest Scared Stupid."
Over the years, "Ernest Saves Christmas" has become a beloved classic, cherished by fans of all ages for its heartwarming holiday spirit and Jim Varney's unforgettable performance as the endearing Ernest P. Worrell.
---
Ernest Saves Christmas  Cast:
Jim Varney: Ernest P. Worrell
Douglas Seale: Santa Claus / Seth Applegate
Oliver Clark: Joe Carruthers, The New Santa Claus
Noelle Parker: Pamela Trenton / Harmony Starr
Gailard Sartain: Chuck, Storage Agent
Bill Byrge: Bobby, Storage Agent
Billie Bird: Mary Morrissey
Key Howard: Immigration Agent
Jack Swanson: Businessman
Buddy Douglas: Pyramus The Elf
Patty Maloney: Thisbe The Elf
Barry Brazell: Cab Passenger
George Kaplan: Mr. Dillis
Robert Lesser: Marty Brock
Zachary Bowden: Boy In The Train Station
---
Ernest Saves Christmas  Crew:
Director: John Cherry
Producer: Joseph Akerman
Music: Mark Snow
---
Ernest Saves Christmas  Details
Ernest Saves Christmas  Trailer:
---