Here is everything you need to know about the amazing Disney movie Escape To Witch Mountain  including casting, reviews, fun facts and more. I hope you find this listing informative and helpful!
Escape To Witch Mountain  Description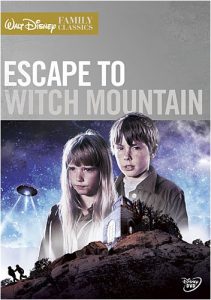 In Escape To Witch Mountain, two young orphans with psychic powers prompts evil millionaire Aristotle Bolt to lure them to his mansion to exploit their powers. While escaping, they meet a friendly camper and begin to unravel the mystery of their origin. Soon, all three are fleeing townspeople who have branded the children witches … but then IT happens!
---
Escape To Witch Mountain  Cast:
Eddie Albert: Jason O'Day
Ray Milland: Aristotle Bolt
Donald Pleasence: Lucas Deranian
Kim Richards: Tia Malone
Kyle Richards: Young Tia Malone
Ike Eisenmann: Tony Malone
Walter Barnes: Sheriff Purdey
Reta Shaw: Mrs. Grindley
Denver Pyle: Uncle Bené
Alfred Ryder: Astrologer
Lawrence Montaigne: Ubermann
Terry Wilson: Biff Jenkins
George Chandler: Grocer
Dermott Downs: Truck
Don Brodie: Gasoline Attendant
Paul Sorenson: Sergeant Foss
Harry Holcombe: Captain Malone
Sam Edwards: Mate
Dan Seymour: Psychic
Eugene Daniels: Cort
Escape To Witch Mountain  Details
Escape To Witch Mountain  Trailer:
Buy Movie
---
---