Here is everything you need to know about the amazing Hollywood Pictures movie Evita including casting, reviews, fun facts and more. I hope you find this listing informative and helpful!
Evita Description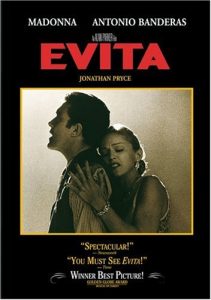 "Evita" is a musical drama film released in 1996, directed by Alan Parker and based on the popular Broadway musical of the same name. The film stars Madonna in the titular role of Eva Perón, the iconic First Lady of Argentina, and Antonio Banderas as Che Guevara, the film's narrator.
The story is a biographical account of Eva Perón's rise to power and her tumultuous life as she becomes a beloved figure in Argentina. The film explores Eva's early struggles as a poor girl from the countryside and her journey to Buenos Aires, where she rises to fame as an actress and ultimately marries Colonel Juan Perón (Jonathan Pryce), who later becomes the President of Argentina.
The movie follows Eva's life as she uses her charisma, beauty, and cunning to gain political influence and support for her husband's regime. She becomes a symbol of hope and inspiration for the working class, but also faces opposition and criticism from the upper class and political rivals.
The musical numbers in "Evita" are a highlight, featuring some of Andrew Lloyd Webber's most famous and memorable songs, such as "Don't Cry for Me Argentina" and "You Must Love Me," which won an Academy Award for Best Original Song.
Madonna's performance as Eva Perón received widespread acclaim, earning her a Golden Globe Award for Best Actress in a Musical or Comedy. Antonio Banderas also received praise for his portrayal of Che Guevara, who serves as the film's cynical and critical observer of Eva's actions and rise to power.
"Evita" is visually stunning, with lavish costumes and sets that capture the glamour and grandeur of the 1940s and 1950s. The film blends historical events with elements of fantasy and symbolism, creating a visually captivating and emotionally resonant experience.
While some critics argued that the film didn't fully delve into the complexity of Eva Perón's life and politics, "Evita" remains a beloved and influential musical film, celebrated for its impressive performances, stunning visuals, and unforgettable music. It has solidified its place in the canon of classic musical movies and continues to captivate audiences with its portrayal of one of Argentina's most intriguing and controversial figures.
---
Evita Cast:
Madonna: Eva Perón
Antonio Banderas: Ché
Jonathan Pryce: Juan Perón
Jimmy Nail: Agustín Magaldi
Victoria Sus: Doña Juana Ibarguren
Julian Littman: Juancito Duarte
Olga Merediz: Bianca Duarte
Laura Pallas: Elisa Duarte
Julia Worsley: Erminda Duarte
Peter Polycarpou: Domingo Mercante
Gary Brooker: Juan Atilio Bramuglia
Andrea Corr: Juan's mistress
Alan Parker: Tormented film director
Peter Hughes: General Francisco Franco
---
Evita Crew:
Director: Alan Parker
Producers: Robert Stigwood, Alan Parker and Andrew Vajna
Screenplay: Alan Parker and Oliver Stone
Music: Andrew Lloyd Webber
---
Evita Details
Movie Studio: Hollywood Pictures
Year Released: 1996
Type of Movie: Live Action
Box Office: $141 million
Awards: Won Academy Award; Won Golden Globes
Evita Trailer:
---