Here is everything you need to know about the amazing Touchstone Pictures movie Father of the Bride including casting, reviews, fun facts and more. I hope you find this listing informative and helpful!
Father of the Bride Description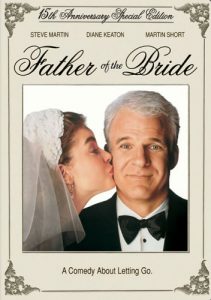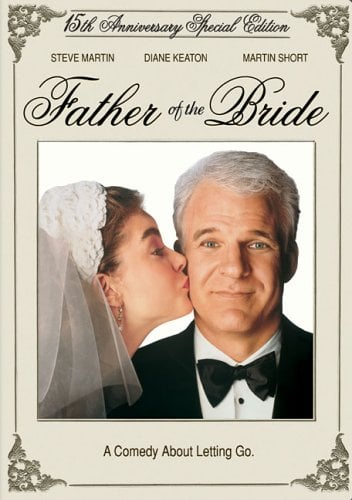 Steve Martin turns in a heartwarming and hilarious performance as George Banks, a befuddled father who has a hard time letting go of his young daughter when she unexpectedly announces her plans to wed. Diane Keaton shines as George's patient, levelheaded wife, while funnyman Martin Short lights up the screen as the off-the-wall wedding consultant. Father Of The Bride vows to deliver fun for the entire family!
---
Father of the Bride Cast:
Steve Martin: George Banks
Diane Keaton: Nina Banks
Kimberly Williams: Annie Banks-MacKenzie
Kieran Culkin: Matty Banks
George Newbern: Bryan MacKenzie
Peter Michael Goetz: John MacKenzie
Kate McGregor-Stewart: Joanna MacKenzie
Martin Short: Franck Eggelhoffer
B.D. Wong: Howard Weinstein
Richard Portnow: Al
David Pasquesi: Hanck
Chauncey Leopardi: Cameron
Eugene Levy: Singer at audition
Marissa Lefton: 3-year-old Annie
Sarah Rose Karr: 7-year-old Annie
Amy Young: 12-year-old Annie
Ira Heiden: Supermarket Stock Boy
---
Father of the Bride Crew:
Director: Charles Shyer
Producers: Carol Baum, Nancy Meyers, Howard Rosenman
Screenplay: Charles Shyer, Nancy Meyers, Frances Goodrich and Albert Hackett
---
Father of the Bride Details
Movie Studio: Touchstone Pictures
Year Released: 1991
Type of Movie: Live Action
Box Office: $89.3 million
Father of the Bride Trailer:
Buy Movie
---