Here is everything you need to know about the amazing Touchstone Pictures movie Father of the Bride including casting, reviews, fun facts and more. I hope you find this listing informative and helpful!
Description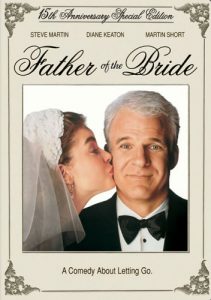 "Father of the Bride" is a heartwarming comedy film released in 1991 and directed by Charles Shyer. It is a remake of the 1950 film of the same name and is based on the 1949 novel by Edward Streeter.
The film follows George Banks, portrayed by Steve Martin, a loving but slightly overprotective father who is struggling to come to terms with the fact that his beloved daughter, Annie (played by Kimberly Williams-Paisley), is getting married. As the wedding preparations begin, George finds himself in a whirlwind of emotions, from excitement and happiness to anxiety and sadness about losing his little girl.
Amidst the chaos of planning the extravagant wedding, George navigates the challenges of dealing with wedding expenses, quirky wedding planners, and an eccentric future son-in-law, Bryan MacKenzie (portrayed by George Newbern). As the big day approaches, George's emotions reach their peak, leading to a hilarious series of mishaps and heartfelt moments.
The film beautifully captures the universal theme of parents learning to let go of their children as they grow up and start their own families. It explores the bittersweet experience of seeing children transition into adulthood and highlights the unbreakable bond between parents and their children.
Steve Martin delivers a memorable performance, portraying George as a caring and devoted father, whose emotions and reactions strike a chord with many parents in the audience. Diane Keaton co-stars as George's wife, Nina, adding warmth and humor to the family dynamic.
The film's humor and heartwarming moments have made it a beloved classic over the years, resonating with audiences of all ages. It captures the essence of family, love, and the joyous chaos that comes with preparing for a wedding.
"Father of the Bride" stands as a timeless portrayal of the emotions and experiences that parents go through when they watch their children take significant steps in their lives. Its universal themes and endearing performances have solidified its place as one of the most cherished and relatable family comedies of all time.
---
Cast:
Steve Martin: George Banks
Diane Keaton: Nina Banks
Kimberly Williams: Annie Banks-MacKenzie
Kieran Culkin: Matty Banks
George Newbern: Bryan MacKenzie
Peter Michael Goetz: John MacKenzie
Kate McGregor-Stewart: Joanna MacKenzie
Martin Short: Franck Eggelhoffer
B.D. Wong: Howard Weinstein
Richard Portnow: Al
David Pasquesi: Hanck
Chauncey Leopardi: Cameron
Eugene Levy: Singer at audition
Marissa Lefton: 3-year-old Annie
Sarah Rose Karr: 7-year-old Annie
Amy Young: 12-year-old Annie
Ira Heiden: Supermarket Stock Boy
---
Crew:
Director: Charles Shyer
Producers: Carol Baum, Nancy Meyers, Howard Rosenman
Screenplay: Charles Shyer, Nancy Meyers, Frances Goodrich and Albert Hackett
---
Additional Details
---
Father of the Bride Trailer:
---