Here is everything you need to know about the amazing Hollywood Pictures movie G.I. Jane including casting, reviews, fun facts and more. I hope you find this listing informative and helpful!
G.I. Jane Description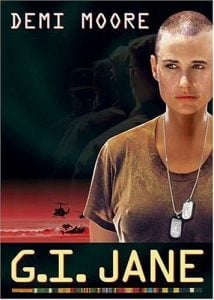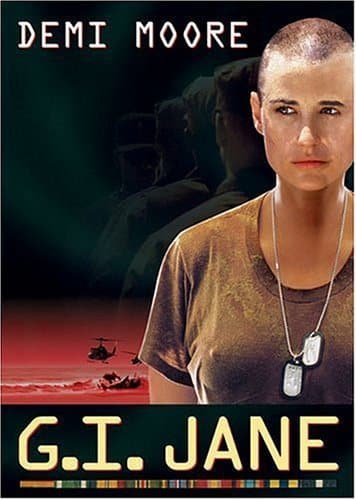 "G.I. Jane" is a military drama film released in 1997, directed by Ridley Scott. The movie stars Demi Moore as Lieutenant Jordan O'Neil, Viggo Mortensen as Master Chief John James Urgayle, and Anne Bancroft as Senator Lillian DeHaven.
The story centers around Lieutenant Jordan O'Neil, a determined and ambitious woman who becomes the first female candidate for the U.S. Navy's elite SEAL training program. Facing opposition and skepticism from her male colleagues and superiors, O'Neil is determined to prove that women can meet the same physical and mental standards as men in the military.
As she endures grueling physical and psychological training, O'Neil faces prejudice, harassment, and a challenging test of her own abilities and determination. Her struggle becomes a symbol of the broader battle for gender equality in the military.
"G.I. Jane" is known for its exploration of gender roles and the challenges faced by women in traditionally male-dominated professions. The film tackles themes of perseverance, resilience, and breaking barriers in pursuit of equality and recognition.
Demi Moore's dedication to her physically demanding role received considerable attention, as she underwent intense training to portray a realistic portrayal of a woman navigating the rigorous SEAL training.
The movie received mixed reviews from critics, with praise for Moore's performance and the film's thought-provoking subject matter but criticism for its occasionally formulaic plot.
"G.I. Jane" serves as a touchstone for viewers seeking a compelling and thought-provoking drama that addresses issues of gender equality and empowerment. It remains a relevant and inspiring film that explores the challenges and triumphs of a woman fighting against institutional prejudice and stereotypes to pave the way for future generations.
---
G.I. Jane Fun Facts
Demi Moore went through an intense physical training regimen to prepare for her role in the film. She underwent a grueling fitness routine, including weightlifting and learning military combat techniques.
The film faced some controversy during its release due to the portrayal of women in combat roles. However, it was praised for raising awareness about gender equality and women's rights in the military.
Ridley Scott and Demi Moore worked closely with the U.S. Navy during the production of the film to ensure accuracy in depicting the Navy SEAL training program. Actual SEAL instructors were involved in the training scenes.
To accurately depict the rigorous training, Demi Moore shaved her head on screen in a pivotal scene. This moment became one of the most memorable and iconic parts of the movie.
The movie received mixed reviews from critics but was a commercial success, grossing over $97 million worldwide.
Scott Wilson, known for his role as Hershel Greene in "The Walking Dead" series, plays the role of Master Chief John Urgayle, the tough and demanding training instructor.
The film was shot on location in various parts of the United States, including California, Maryland, and Virginia.
The character of Lieutenant Jordan O'Neil was inspired by the real-life experiences of former U.S. Navy SEAL and diver Kristin Beck, who later came out as a transgender woman.
"G.I. Jane" sparked discussions about gender equality in the military and the role of women in combat, contributing to ongoing debates and influencing public perception on the subject.
---
G.I. Jane Cast:
Demi Moore: Lieutenant Jordan O'Neil
Viggo Mortensen: Command Master Chief John James Urgayle
Anne Bancroft: Sen. Lillian DeHaven
Jason Beghe: Lieutenant Commander Royce
Daniel von Bargen: Theodore Hayes
Scott Wilson: Captain Salem
John Michael Higgins: Chief of Staff
Kevin Gage: Instructor Max Pyro
David Warshofsky: Instructor Johns
David Vadim: Sergeant First Class Cortez
Lucinda Jenney: Blondell
Morris Chestnut: Lieutenant McCool
Josh Hopkins: Ensign F. Lee 'Flea' Montgomery
Jim Caviezel: 'Slov' Slovnik
Boyd Kestner: Lieutenant 'Wick' Wickwire
Dimitri Diatchenko: Trainee
Angel David: Newberry
Stephen Ramsey: Stamm
---
G.I. Jane Crew:
Director: Ridley Scott
Producers: Ridley Scott, Roger Birnbaum, Demi Moore and Suzanne Todd
Screenplay: David Twohy and Danielle Alexandra
---
G.I. Jane Details
G.I. Jane Trailer:
---