Here is everything you need to know about the amazing Hollywood Pictures movie G.I. Jane including casting, reviews, fun facts and more. I hope you find this listing informative and helpful!
G.I. Jane Description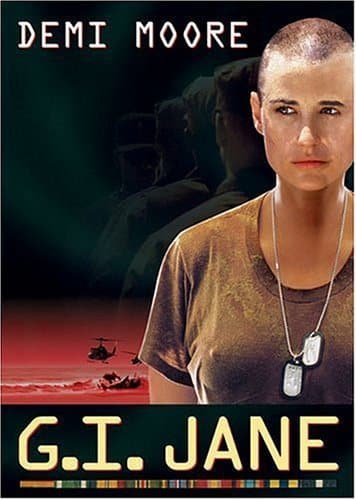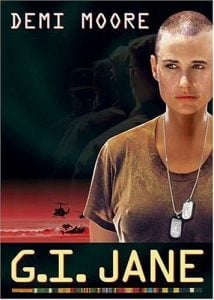 Demi Moore is in top form in this action-packed hit! Moore stars as gutsy Lieutenant O'Neil, the first woman ever given the opportunity to earn a place in the armed forces most highly skilled combat unit — the elite Navy SEALS! But the already brutal rigors of training camp turn into an unimaginable test of courage and determination once it becomes clear that no one — powerful politicians, top military brass, or her male Navy SEAL teammates — wants her to succeed!
---
G.I. Jane Cast:
Demi Moore: Lieutenant Jordan O'Neil
Viggo Mortensen: Command Master Chief John James Urgayle
Anne Bancroft: Sen. Lillian DeHaven
Jason Beghe: Lieutenant Commander Royce
Daniel von Bargen: Theodore Hayes
Scott Wilson: Captain Salem
John Michael Higgins: Chief of Staff
Kevin Gage: Instructor Max Pyro
David Warshofsky: Instructor Johns
David Vadim: Sergeant First Class Cortez
Lucinda Jenney: Blondell
Morris Chestnut: Lieutenant McCool
Josh Hopkins: Ensign F. Lee 'Flea' Montgomery
Jim Caviezel: 'Slov' Slovnik
Boyd Kestner: Lieutenant 'Wick' Wickwire
Dimitri Diatchenko: Trainee
Angel David: Newberry
Stephen Ramsey: Stamm
---
G.I. Jane Crew:
Director: Ridley Scott
Producers: Ridley Scott, Roger Birnbaum, Demi Moore and Suzanne Todd
Screenplay: David Twohy and Danielle Alexandra
---
G.I. Jane Details
Movie Studio: Hollywood Pictures
Year Released: 1997
Type of Movie: Live Action
Box Office: $97.1 million
G.I. Jane Trailer:
---