Here is everything you need to know about the amazing Touchstone Pictures movie Gone in 60 Seconds  including casting, reviews, fun facts and more. I hope you find this listing informative and helpful!
Gone in 60 Seconds  Description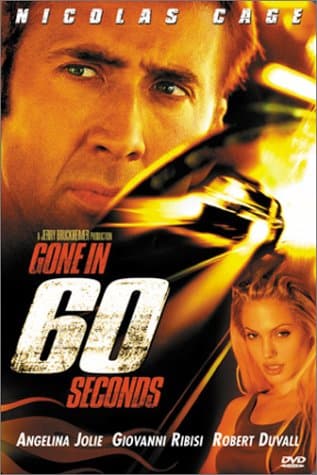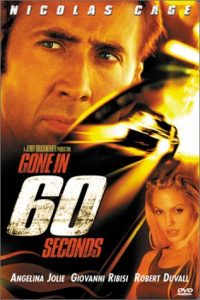 Academy Award(R) winners Nicolas Cage and sexy Angelina Jolie ride an unstoppable wave of speed and adrenaline in this hot, edgy action hit from high-octane producer Jerry Bruckheimer. Legendary car booster Randall "Memphis" Raines (Cage) thought he'd left the fast lane behind — until he's forced out of retirement in a do-or-die effort to save his kid brother (Giovanni Ribisi) from the wrath of an evil mobster! But with speed to burn and attitude to spare, Memphis hastily re-assembles his old crew — a rogues' gallery including Academy Award(R) winner Robert Duvall — and floors it in a full-throttle race to pull of the ultimate car heist: 50 exotic beauties in 24 hours — and the cops are already on to them! GONE IN 60 SECONDS is an action packed thrill ride that comes out fast and never slows down.
---
Gone in 60 Seconds  Cast:
Nicolas Cage: Randall "Memphis" Raines
Angelina Jolie: Sara "Sway" Wayland
Robert Duvall: Otto Halliwell
Will Patton: Atley Jackson
Delroy Lindo: Detective Roland Castlebeck
Giovanni Ribisi: Kip Raines
Christopher Eccleston: Raymond Calitri
Vinnie Jones: Sphinx
Scott Caan: Tumbler
T.J. Cross: Mirror Man
James Duval: Fred
Timothy Olyphant: Detective Drycoff
Chi McBride: Donny Astricky
William Lee Scott: Toby
Grace Zabriskie: Helen Raines
Frances Fisher: Junie Halliwell
Stephen Shellen: Roger
Trevor Goddard: Don
Master P: Johnny B
Carmen Argenziano: Detective Mayhew
Bodhi Elfman: Fuzzy Frizzel
Arye Gross: James Lakewood
Dan Hildebrand: Saul
Michael Peña: Ignacio
John Carroll Lynch: Impound Manager
---
Gone in 60 Seconds  Crew:
Director: Dominic Sena
Producers: Jerry Bruckheimer and Mike Stenson
Writer: Scott Rosenberg
---
Gone in 60 Seconds  Details
Gone in 60 Seconds  Trailer:
---