Here is everything you need to know about the amazing Hollywood Pictures movie Grosse Pointe Blank including casting, reviews, fun facts and more. I hope you find this listing informative and helpful!
Description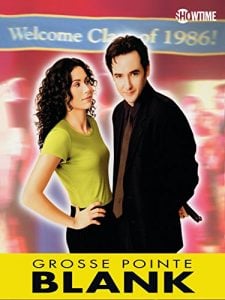 "Grosse Pointe Blank" is a dark comedy film released in 1997, directed by George Armitage. The movie stars John Cusack as Martin Q. Blank, Minnie Driver as Debi Newberry, and Dan Aykroyd as Grocer.
The story follows Martin Q. Blank, a professional hitman, who is hired to carry out assassinations for various clients. Despite his successful career as a killer, Martin is discontented and lacking a sense of purpose in his life.
When he receives an invitation to his high school reunion in Grosse Pointe, Michigan, Martin decides to attend, hoping to find some meaning in his life and reconnect with his past.
As he returns to his hometown, Martin rekindles his relationship with Debi Newberry, his high school sweetheart. Their relationship becomes complicated as Martin must confront his violent past and the choices he has made.
"Grosse Pointe Blank" is known for its dark humor, witty dialogue, and John Cusack's charismatic performance as the conflicted hitman. The film cleverly blends elements of comedy, action, and romance, creating a unique and entertaining movie.
The film received positive reviews from critics and has become a cult classic, beloved for its offbeat and unconventional take on the hitman genre.
"Grosse Pointe Blank" serves as a touchstone for viewers seeking a clever and humorous dark comedy that explores themes of redemption, self-discovery, and the desire for a second chance at life. It remains a smart and enjoyable film that balances its action and romance elements with sharp wit and introspection, making it a memorable and beloved entry in the hitman comedy genre.
---
Cast:
John Cusack: Martin Q. Blank
Minnie Driver: Debi Newberry
Alan Arkin: Dr. Oatman
Dan Aykroyd: Grocer
Joan Cusack: Marcella
Jeremy Piven: Paul Spericki
Hank Azaria: Steven Lardner
Barbara Harris: Mary Blank
Mitchell Ryan: Bart Newberry
K. Todd Freeman: Kenneth McCullers
Michael Cudlitz: Bob Destepello
Benny Urquidez: Felix LaPoubelle
Carlos Jacott: Ken
Jenna Elfman: Tanya
Steve Pink: Terry Rostand
Brent Armitage: Cosmo
Ann Cusack: Amy
Belita Moreno: Mrs. Kinetta
K.K. Dodds: Tracy
Bill Cusack: waiter
---
Crew:
Director: George Armitage
Producer: Susan Arnold, Donna Arkoff Roth and Roger Birnbaum
Screenplay: Tom Jankiewicz, D. V. DeVincentis, Steve Pink and John Cusack
---
Additional Details
---
Grosse Pointe Blank Trailer:
---