Here is everything you need to know about the amazing Disney movie Herbie Goes Bananas  including casting, reviews, fun facts and more. I hope you find this listing informative and helpful!
Herbie Goes Bananas  Description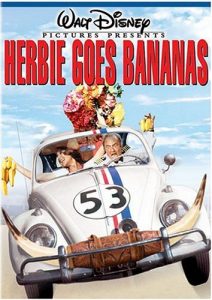 Herbie, everyone's favorite "love bug," demonstrates his special brand of "car-isma" and high-octane humor in this action-packed, stunt-filled comedy outing. The fun begins when Herbie sets sail for Rio de Janeiro's Grande Premio racing competition with his two new owners.
---
Herbie Goes Bananas  Cast:
Cloris Leachman: Aunt Louise Trends
Charles Martin Smith: Davy "D.J." Johns
John Vernon: Prindle
Stephen W. Burns: Peter "Pete" Stancheck
Elyssa Davalos: Melissa
Joaquin Garay III: Paco
Harvey Korman: Captain Blythe
Richard Jaeckel: Shepard
Alex Rocco: Quinn
Fritz Feld: Chief Steward
Vito Scotti: Armando Moccia
Jose Gonzales-Gonzales: Garage Owner
Ruben Moreno: Store Owner
Tina Menard: Store Owner's Wife
Jorge Moreno: Bus Driver
Allan Hunt: Canal Operator #2
Tom Scott: Canal Operator #2
Hector Morales: Mexican General
Iris Adrian: Loud American Wife
Ceil Cabot: Mrs. Purkiss
Pat Van Patten: Cigarette Guest
Jack Perkins: Loud American
Henry Slate: Off-Watch Officer
Ernie Fuentes: Native
Antonio Trevino: Pigeon Owner
Dante D'Andre: Dr. De Moraes
Alma Beltran: General's Wife
Dolores Aguirre: General's Daughter #1
Aurora Coria: General's Daughter #2
Alex Tinne: Local #1
Don Diamond: Local #2
Warde Donovan: Maitre d'
Ray Victor: Guard Attendant
Bert Santos: Policeman #3
Buddy Joe Hooker: Chef
Steve Boyum: Panama Policeman
Kenny Endoso: Mexican Policeman
Mario Cisneros: Puetro Vallarta Policeman
Jeff Ramsey: The Matador
John Meier: Ship's Officer
Herbie Goes Bananas  Details
Herbie Goes Bananas  Trailer:
Buy Movie
---
---