Here is everything you need to know about the amazing Disney movie Horse Sense including casting, reviews, fun facts and more. I hope you find this listing informative and helpful!
Horse Sense Description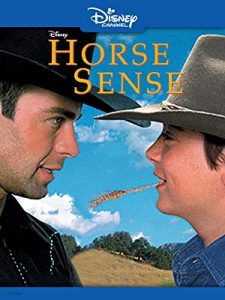 "Horse Sense" is a Disney Channel Original Movie that premiered in 1999. The film is a family drama and comedy, directed by Greg Beeman.
The story revolves around a carefree and self-centered young man named Michael Woods, portrayed by Joey Lawrence. Michael lives a luxurious life in Los Angeles, enjoying the perks of being part of a wealthy family. He is used to getting whatever he wants and doesn't take life too seriously.
When his parents decide to go on a European vacation, they ask Michael to take care of his cousin Tommy Biggs, portrayed by Andrew Lawrence. Tommy is from a simpler background, living on a ranch in Montana with his mother and brother.
Initially, Michael is not enthusiastic about spending time with his cousin and the ranch life. He is more interested in continuing his lavish lifestyle in Los Angeles. However, when he arrives at the ranch and meets Tommy, he starts to appreciate the genuine values and hard work that his cousin's family represents.
As the story unfolds, Michael and Tommy bond and develop a strong relationship. They face challenges and adventures together, including dealing with the family's financial struggles and standing up to some unscrupulous individuals trying to take advantage of the ranch.
Through his experiences at the ranch, Michael learns the importance of family, responsibility, and the value of hard work. He starts to question his previous lifestyle and priorities, leading to personal growth and a deeper understanding of himself.
"Horse Sense" delivers a heartwarming and touching message about family, friendship, and the significance of embracing one's roots. The Lawrence brothers, Joey and Andrew, exhibit great chemistry on-screen, making the movie even more enjoyable.
Overall, "Horse Sense" is an uplifting film that will resonate with viewers of all ages. It encourages viewers to appreciate the simple things in life, embrace family ties, and be true to themselves.
---
Horse Sense Cast:
Joseph Lawrence: Michael Woods
Andrew Lawrence: Tommy Biggs
Susan Walters: Jules Biggs
M. C. Gainey: "Twister"
Leann Hunley: Jacy Woods
Robin Thomas: Glenn Woods
Jolie Jenkins: Gina
Steve Reevis: "Mule"
Freda Foh Shen: Arlene
Ian Ogilvy: Miles
Nancy Renee: Professor Mallory Baynes
Channing Chase: Deidre White
Mike Trachtenberg: Lou
Dan Martin: Officer
Holmes Osborne: Mr. Hawthorne
Matthew Lawrence: Cowboy In Airport
---
Horse Sense Crew:
Director: Greg Beeman
Producer: Greg Beeman and Christopher Morgan
---
Horse Sense Details
Horse Sense Trailer:
---