Here is everything you need to know about the amazing Disney movie Lilly The Witch: The Dragon And The Magic Book including casting, reviews, fun facts and more. I hope you find this listing informative and helpful!
Lilly The Witch: The Dragon And The Magic Book Description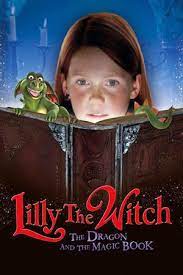 "Lilly the Witch: The Dragon and the Magic Book" is a German fantasy-adventure film released in 2009. It is based on the popular children's book series "Lilly the Witch" (original title: "Hexe Lilli") written by Knister. The film is directed by Stefan Ruzowitzky and stars Alina Freund in the lead role of Lilly.
The story follows the adventures of a young girl named Lilly, who discovers that she is a witch with magical powers. One day, while practicing her spells, Lilly accidentally turns her classmate, Leon, into a dragon. To undo the spell and bring Leon back to his human form, she needs to find a magical book called the Dragon's Book.
With the help of her loyal dragon familiar, Hector, Lilly embarks on a quest to find the Dragon's Book. Along the way, she encounters various magical creatures and faces challenges that test her courage and wit. She also makes new friends, including the mischievous sorcerer's apprentice, Mira, and the friendly dragon, Dragoline.
As Lilly and her friends search for the Dragon's Book, they must outsmart the wicked sorcerer Hieronymus, who also seeks the book's power for his own evil purposes. The adventure takes them through enchanted forests, mysterious caves, and magical realms, making for an exciting and whimsical journey.
"Lilly the Witch: The Dragon and the Magic Book" is a heartwarming and entertaining family film that combines elements of fantasy, comedy, and friendship. It explores themes of bravery, self-discovery, and the importance of using one's powers responsibly. The movie's vibrant visuals and engaging storytelling make it appealing to young audiences.
The character of Lilly has become a beloved figure in German children's literature and media, and the film adaptation introduced her to a broader international audience. While the film is part of a series based on the "Lilly the Witch" books, it can be enjoyed as a standalone story.
Overall, "Lilly the Witch: The Dragon and the Magic Book" is a delightful fantasy adventure that captures the imagination of both children and adults alike. It embraces the magical world of witches and wizards and encourages viewers to believe in the power of friendship and the magic within themselves.
---
Lilly The Witch: The Dragon And The Magic Book Cast:
Alina Freund: Lilly
Pilar Bardem: Surulunda
Ingo Naujoks: Jerome (Hieronymus)
Sami Herzog: Leon
Michael Mittermeier (voice): Hector
---
Lilly The Witch: The Dragon And The Magic Book Crew:
Director: Stefan Ruzowitzky
---
Lilly The Witch: The Dragon And The Magic Book Details
Movie Studio: Disney
Year Released: 2009
Type of Movie: Live-Action
Box Office: na
Lilly The Witch: The Dragon And The Magic Book Trailer:
---