Here is everything you need to know about the amazing Hollywood Pictures movie Miami Rhapsody including casting, reviews, fun facts and more. I hope you find this listing informative and helpful!
Miami Rhapsody Description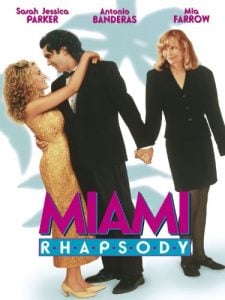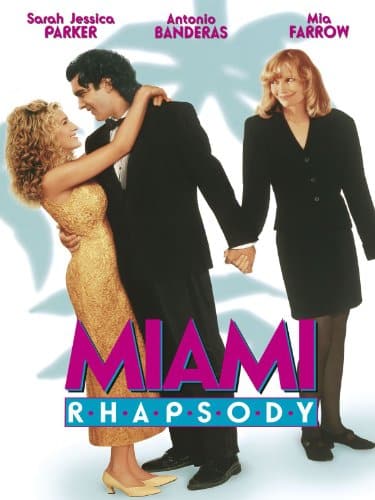 "Miami Rhapsody" is a romantic comedy film released in 1995, directed by David Frankel. The movie stars Sarah Jessica Parker as Gwyn Marcus, Antonio Banderas as Antonio, and Mia Farrow as Gwyn's mother, Nina.
The story revolves around Gwyn Marcus, a young woman living in Miami who is about to get married to her boyfriend Matt. As her wedding approaches, Gwyn begins to have doubts about her relationship and starts to question her commitment to marriage.
Amidst her own uncertainty, Gwyn becomes entangled in the romantic entanglements of her family and friends. Her parents' marriage hits a rough patch when her father admits to having an affair, her sister is involved in an affair with a married man, and her brother's relationship faces its own challenges.
As Gwyn observes the complicated love lives of those around her, she is forced to confront her own fears and desires about commitment and love.
"Miami Rhapsody" is known for its charming portrayal of relationships and its humorous take on the complexities of love and marriage. The film offers a light-hearted and entertaining look at the various stages of romantic relationships, from the excitement of new love to the challenges of long-term commitments.
The movie received mixed reviews from critics but has found a following among fans of romantic comedies and those who enjoy films exploring the ups and downs of love and relationships.
"Miami Rhapsody" serves as a touchstone for viewers seeking a heartwarming and relatable romantic comedy that captures the intricacies of love and marriage. It remains an enjoyable and feel-good film that celebrates the joys and struggles of romantic relationships and the importance of finding one's own path to happiness and fulfillment in love.
---
Miami Rhapsody Cast:
Sarah Jessica Parker: Gwyn Marcus
Gil Bellows: Matt
Antonio Banderas: Antonio
Mia Farrow: Nina Marcus
Paul Mazursky: Vic Marcus
Kevin Pollak: Jordan Marcus
Barbara Garrick: Terri
Carla Gugino: Leslie Marcus
Bo Eason: Jeff
Naomi Campbell: Kaia
Jeremy Piven: Mitchell
Kelly Bishop: Zelda
Ben Stein: Rabbi
Donal Logue: Derek
---
Miami Rhapsody Crew:
Director: David Frankel
Producers: David Frankel, Jon Avnet and Jordan Kerner
Writer: David Frankel
---
Miami Rhapsody Details
Miami Rhapsody Trailer:
---