Here is everything you need to know about the amazing Hollywood Pictures movie Mr. Holland's Opus including casting, reviews, fun facts and more. I hope you find this listing informative and helpful!
Mr. Holland's Opus Description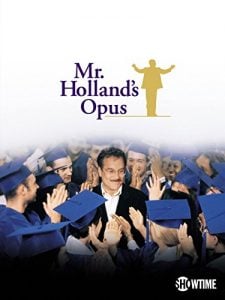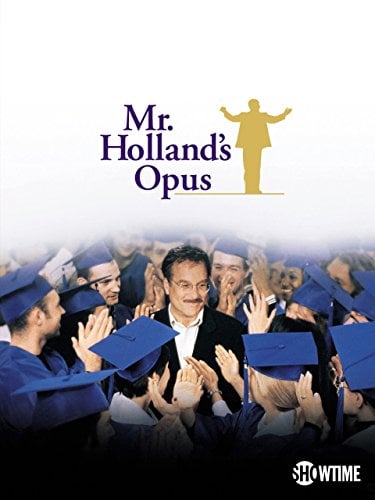 "Mr. Holland's Opus" is a drama film released in 1995, directed by Stephen Herek. The movie stars Richard Dreyfuss in the lead role of Glenn Holland, a passionate and aspiring composer who takes a job as a high school music teacher to support his family.
The story follows Glenn Holland as he starts his teaching career at John F. Kennedy High School. Initially, he sees teaching as a temporary job that will allow him to have time to focus on his true passion – composing a symphony. However, as time passes, he becomes deeply invested in the lives of his students and discovers his love for teaching.
Over the course of 30 years, Glenn's dedication to his students and his passion for music become evident. He inspires and transforms the lives of many young individuals through his creative and innovative teaching methods. He forms close relationships with several of his students, who find comfort and guidance in his mentorship.
Throughout the film, "Mr. Holland's Opus" explores the complexities of the teaching profession and the impact that educators can have on their students' lives. It delves into themes of sacrifice, ambition, and the pursuit of one's dreams.
As Glenn's symphony remains unfinished, he realizes that his greatest composition is the impact he has made on the lives of his students. The film culminates in a touching and emotional finale, where former students, colleagues, and friends gather to celebrate Glenn's retirement and pay tribute to the profound influence he has had on their lives.
"Mr. Holland's Opus" received critical acclaim upon its release, with Richard Dreyfuss's performance earning him an Academy Award nomination for Best Actor. The film's heartwarming story and powerful message resonated with audiences, making it a beloved and enduring classic.
The movie serves as a testament to the importance of educators and the lasting impact they can have on their students' lives. It celebrates the joy of teaching and the value of music and arts education in shaping young minds.
"Mr. Holland's Opus" continues to be celebrated as a heartwarming and inspirational film that showcases the transformative power of education and the ability of teachers to leave a lasting legacy through their dedication and passion. It remains a moving and memorable tribute to the teachers who make a difference in the lives of their students every day.
---
Mr. Holland's Opus Cast:
Richard Dreyfuss: Glenn Holland
Glenne Headly: Iris Holland
Jay Thomas: Bill Meister
Olympia Dukakis: Principal Helen Jacobs
William H. Macy: Vice Principal (later Principal) Gene Wolters
Jean Louisa Kelly: Rowena Morgan
Alicia Witt: younger Gertrude Lang
Joanna Gleason: Older Governor Gertrude Lang
Damon Whitaker: Bobby Tidd
Terrence Howard: Louis Russ
Alexandra Boyd: Sarah Olmstead
Nicholas John Renner: Coltrane "Cole" Holland (age 6)
Joseph Anderson: Coltrane "Cole" Holland (age 15)
Anthony Natale: Coltrane "Cole" Holland (age 28)
Beth Maitland: Deaf School Principal
Balthazar Getty: Stadler
---
Mr. Holland's Opus Crew:
Director: Stephen Herek
Producers: Ted Field, Robert W. Cort, Michael Nolin and Patrick Sheane Duncan
Writer: Patrick Sheane Duncan
---
Mr. Holland's Opus Details
Movie Studio: Hollywood Pictures
Year Released: 1995
Type of Movie: Live Action
Box Office: $106.2 million
Awards: Nominated Academy Award; Nominated Golden Globe
Mr. Holland's Opus Trailer:
---