Here is everything you need to know about the amazing Disney movie Napoleon And Samantha including casting, reviews, fun facts and more. I hope you find this listing informative and helpful!
Description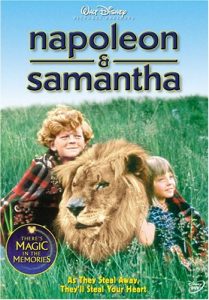 "Napoleon and Samantha" is a 1972 American family adventure film directed by Bernard McEveety and produced by Walt Disney Productions. The film follows the heartwarming story of two young friends who embark on a courageous journey together.
The story revolves around 10-year-old Samantha (Jodie Foster) and her 11-year-old friend Napoleon (Johnny Whitaker). Samantha lives with her grandfather (Will Geer) and loves her pet lion, Major. However, when her grandfather becomes seriously ill and is taken to the hospital, Samantha's life takes a challenging turn. With no one to care for Major, she turns to Napoleon for help.
Napoleon and Samantha decide to run away with Major to keep him safe from authorities who might take him away. They set off on an adventurous cross-country journey through the wilderness to find Napoleon's father, who they believe will be able to provide a home for Major. Along the way, they encounter various obstacles and unexpected encounters, testing their resilience and bond as friends.
As they travel through the vast wilderness, Samantha and Napoleon encounter both friends and foes, making their journey both perilous and memorable. Throughout their adventure, they learn valuable lessons about courage, friendship, and the importance of family.
"Napoleon and Samantha" is a heartwarming family film that captures the spirit of adventure and the strength of friendship. The film's portrayal of a young girl's determination to protect her beloved pet lion and the loyalty of her friend resonated with audiences. The performances of the young actors, Jodie Foster and Johnny Whitaker, received praise for their charming and engaging portrayals.
The film's positive themes, beautiful outdoor scenery, and emotional moments make it a timeless classic for audiences of all ages. It exemplifies Disney's ability to tell heartfelt and adventurous stories that appeal to both children and adults.
Overall, "Napoleon and Samantha" remains a beloved Disney film, cherished for its endearing characters, adventurous plot, and touching messages about friendship and loyalty. It stands as a testament to Disney's commitment to creating heartwarming and memorable family films that have a lasting impact on generations of viewers.
---
Cast:
Johnny Whitaker: Napoleon Wilson
Jodie Foster: Samantha
Michael Douglas: Daniel Arlington Williams III
Will Geer: Grandpa Seth Wilson
Zamba: Major the Lion
Arch Johnson: Chief of Police
Henry Jones: Mr. Amos Gutteridge
Vito Scotti: Dimitri the Clown
John Crawford: Desk Sergeant
Mary Wickes: Clerk
Ellen Corby: Gertrude
Rex Holman: Mark Pierson
Claude Johnson: Gary
John Lupton: Pete
James MacDonald: Bear
---
Crew:
Director: Bernard McEveety
Producer: Winston Hibler
Music: Buddy Baker
---
Additional Details
---
Napoleon And Samantha Trailer:
---