Here is everything you need to know about the amazing Hollywood Pictures movie Nixon including casting, reviews, fun facts and more. I hope you find this listing informative and helpful!
Nixon Description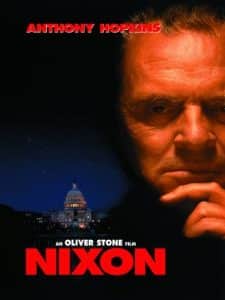 "Nixon" is a biographical drama film released in 1995, directed by Oliver Stone. The movie stars Anthony Hopkins as Richard Nixon, Joan Allen as Pat Nixon, and James Woods as H.R. Haldeman, along with an ensemble cast portraying various historical figures.
The film chronicles the life and political career of Richard Nixon, the 37th President of the United States. It explores Nixon's rise from humble beginnings to becoming a powerful and controversial figure in American politics.
The story delves into Nixon's involvement in significant events such as the Watergate scandal, the Vietnam War, and his efforts to improve relations with China and the Soviet Union.
The film provides a nuanced and multi-dimensional portrayal of Nixon, showcasing both his political brilliance and his personal flaws. It delves into Nixon's inner conflicts, insecurities, and the decisions that ultimately led to his downfall.
"Nixon" is known for Anthony Hopkins' powerful and compelling performance as the complex and enigmatic president. The film received critical acclaim for its in-depth exploration of Nixon's character and its portrayal of a pivotal period in American history.
While "Nixon" takes creative liberties in its portrayal of historical events, it remains a touchstone for viewers interested in political dramas and character studies. It offers a thought-provoking and dramatic examination of the life of one of America's most controversial presidents, shedding light on the complexities of power, ambition, and the human condition.
---
Nixon Cast:
Anthony Hopkins: Richard Nixon
Joan Allen: Pat Nixon
Annabeth Gish: Julie Nixon Eisenhower
Marley Shelton: Tricia Nixon Cox
James Woods: H. R. Haldeman
J.T. Walsh: John Ehrlichman
Paul Sorvino: Henry Kissinger
Powers Boothe: Alexander Haig
E.G. Marshall: John N. Mitchell
David Paymer: Ron Ziegler
David Hyde Pierce: John Dean
Kevin Dunn: Charles Colson
Saul Rubinek: Herbert G. Klein
Fyvush Finkel: Murray Chotiner
Tony Plana: Manolo Sanchez
James Karen: William P. Rogers
Richard Fancy: Melvin Laird
Mary Steenburgen: Hannah Milhous Nixon
Tony Goldwyn: Harold Nixon
Tom Bower: Francis Nixon
Sean Stone: Donald Nixon
Joshua Preston: Arthur Nixon
Corey Carrier: adolescent Richard Nixon
David Barry Gray: young adult Richard Nixon
Ed Harris: E. Howard Hunt
John Diehl: G. Gordon Liddy
Robert Beltran: Frank Sturgis
Bob Hoskins: J. Edgar Hoover
Brian Bedford: Clyde Tolson
Madeline Kahn: Martha Beall Mitchell
Edward Herrmann: Nelson Rockefeller
Dan Hedaya: Trini Cardoza
Bridgette Wilson: Sandy
Ric Young: Mao Zedong
Boris Sichkin: Leonid Brezhnev
Sam Waterston: Richard Helms
Larry Hagman: Jack Jones
Tony Lo Bianco: Johnny Roselli
George Plimpton: the President's lawyer
---
Nixon Crew:
Director: Oliver Stone
Producers: Clayton Townsend, Oliver Stone and Andrew Vajna
Writers: Stephen Rivele, Christopher Wilkinson and Oliver Stone
Music: John Williams
---
Nixon Details
Movie Studio: Hollywood Pictures
Year Released: 1995
Type of Movie: Live Action
Box Office: $13.6 million
Awards: Nominated Academy Awards
Nixon Trailer:
---