Here is everything you need to know about the amazing Touchstone Pictures movie O Brother Where Art Thou?  including casting, reviews, fun facts and more. I hope you find this listing informative and helpful!
O Brother Where Art Thou?  Description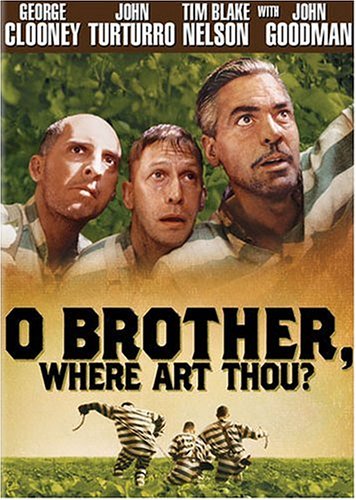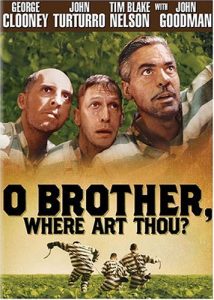 Disenchanted with the daily drudge of crushing rocks on a prison farm in Mississippi, the dapper, silver-tongued Ulysses Everett McGill (George Clooney) busts loose. Except he's still shackled to his own chain-mates from the chain gang — bad-tempered Pete (John Turturro) and sweet, dimwitted Delmar (Tim Blake Nelson). With nothing to lose and buried loot to regain — before it's lost forever in a flood — the three embark on the adventure of a lifetime in this hilarious offbeat road picture. Populated with strange characters, including a blind prophet, sexy sirens, and a one-eyed Bible salesman (John Goodman), it's an odyssey filled with chases, close calls, near misses, and betrayal that will leave you laughing at every outrageous and surprising twist and turn.
---
O Brother Where Art Thou?  Cast:
George Clooney: Ulysses Everett McGill
John Turturro: Pete Hogwallop
Tim Blake Nelson: Delmar O'Donnell
Chris Thomas King: Tommy Johnson
Frank Collison: Washington Bartholomew "Wash" Hogwallop
John Goodman: Daniel "Big Dan" Teague
Holly Hunter: Penny Wharvey-McGill,
Charles Durning: Menelaus "Pappy" O'Daniel
Daniel von Bargen: Sheriff Cooley
Wayne Duvall: Homer Stokes
Ray McKinnon: Vernon T. Waldrip
Michael Badalucco: George Nelson
Stephen Root: Mr. Lund
Lee Weaver: the Blind Seer
---
O Brother Where Art Thou?  Crew:
Director: Joel Coen
Producer: Ethan Coen
Writers: The Coen Brothers
Music: T Bone Burnett
---
O Brother Where Art Thou?  Details
Movie Studio: Touchstone Pictures
Year Released: 2000
Type of Movie: Live Action
Box Office: $71.9 million
Awards: Nominated Academy Awards; Won Golden Globe
O Brother Where Art Thou?  Trailer:
---