Here is everything you need to know about the amazing Hollywood Pictures movie One Good Cop including casting, reviews, fun facts and more. I hope you find this listing informative and helpful!
One Good Cop Description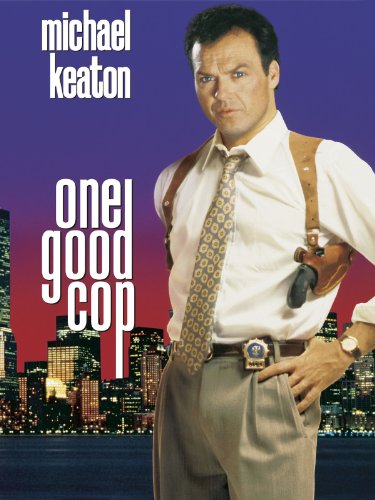 "One Good Cop" is a crime drama film released in 1991, directed by Heywood Gould. The movie stars Michael Keaton as Artie Lewis and Rene Russo as Rita Lewis, with Anthony LaPaglia and Benjamin Bratt in supporting roles.
The story follows Artie Lewis, a dedicated and honest police officer, who is left devastated after his partner is killed in the line of duty. Artie also faces personal struggles as his wife, Rita, is diagnosed with cancer, leaving him with mounting medical bills and the responsibility of caring for their three young daughters.
In an attempt to secure a better future for his family, Artie and his partner Stevie Diroma (played by Anthony LaPaglia) come across a large sum of drug money during a routine drug bust. They decide to keep the money to pay off Rita's medical bills and support their families.
However, their actions draw the attention of both ruthless drug dealers and internal affairs investigators, leading Artie into a dangerous and morally complicated situation. He must navigate the thin line between his sense of justice and doing what is necessary to protect his family.
"One Good Cop" explores themes of integrity, sacrifice, and the lengths to which individuals are willing to go to protect their loved ones. The film combines elements of crime thriller and family drama to depict the challenges faced by a good man caught in difficult circumstances.
The film received mixed reviews from critics but has been praised for Michael Keaton's compelling performance as Artie Lewis and the film's exploration of moral dilemmas faced by law enforcement officers.
"One Good Cop" serves as a touchstone for viewers seeking a character-driven crime drama with emotional depth, as well as a reflection on the sacrifices people make to do what they believe is right for the ones they love.
---
One Good Cop Cast:
Michael Keaton: Artie Lewis
Rene Russo: Rita Lewis
Anthony LaPaglia: Stevie Diroma
Benjamin Bratt: Felix
Rachel Ticotin: Grace
Kevin Conway: Lieutenant Danny Quinn
Tony Plana: Beniamano
Charlayne Woodard: Cheryl Clark
Kevin Corrigan: Clifford
Vondie Curtis-Hall: Father Wills
---
One Good Cop Crew:
Director: Heywood Gould
Producer: Laurence Mark
Writer: Heywood Gould
Music: David Foster and William Ross
---
One Good Cop Details
One Good Cop Trailer:
---