Here is everything you need to know about the amazing Disney movie Prince Of Persia: The Sands of Time including casting, reviews, fun facts and more. I hope you find this listing informative and helpful!
Prince Of Persia: The Sands of Time Description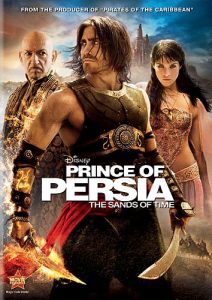 "Prince of Persia: The Sands of Time" is a live-action Disney film released in 2010. It is based on the popular video game franchise "Prince of Persia" developed by Ubisoft. The film was directed by Mike Newell and stars Jake Gyllenhaal as the protagonist, Dastan.
The story is set in the ancient kingdom of Persia and follows the adventurous and street-smart Dastan, who is adopted into the royal family by King Sharaman after displaying acts of bravery. Years later, the kingdom is on the brink of war with a neighboring kingdom, and Dastan finds himself in possession of a mystical dagger with the power to control time, known as the Sands of Time.
When the kingdom is betrayed, Dastan is accused of the king's murder and must go on the run with Princess Tamina, played by Gemma Arterton, to clear his name and prevent the powerful dagger from falling into the wrong hands. Together, they embark on an epic journey filled with action, adventure, and magical encounters.
Throughout their quest, Dastan and Tamina must overcome treacherous obstacles, battle formidable enemies, and outwit those who seek to misuse the power of the Sands of Time. Along the way, they also discover the true nature of the dagger's power and the sacrifices needed to control it.
"Prince of Persia: The Sands of Time" is praised for its thrilling action sequences, impressive visual effects, and Jake Gyllenhaal's charismatic performance as Dastan. The film captures the essence of the video game series, blending elements of fantasy, historical fiction, and romance.
While it received mixed reviews from critics, "Prince of Persia: The Sands of Time" was well-received by audiences and became a commercial success. It further popularized the "Prince of Persia" franchise and introduced the adventurous world of Persia to a new generation of viewers.
Though not a critical favorite, the film remains a fun and entertaining adventure with a mix of swashbuckling action and fantasy elements. Its blend of ancient Persian settings, daring stunts, and the quest for a powerful artifact makes it a memorable addition to the Disney live-action film catalog.
---
Prince Of Persia: The Sands of Time Cast:
Jake Gyllenhaal: Prince Dastan of Persia
William Foster: Young Dastan
Gemma Arterton: Tamina
Ben Kingsley: Prince Nizam of Persia
Alfred Molina: Sheik Amar
Richard Coyle: Prince Tus of Persia
Toby Kebbell: Prince Garsiv of Persia
Ronald Pickup: King Sharaman
Reece Ritchie: Bis, Dastan's servant
Steve Toussaint: Seso
Darwin Shaw: Asoka
Gísli Örn Garðarsson: Hassansin Leader
---
Prince Of Persia: The Sands of Time Crew:
Director: Mike Newell
Producers: Jerry Bruckheimer
---
Prince Of Persia: The Sands of Time Details
Prince Of Persia: The Sands of Time Trailer:
---