Here is everything you need to know about the amazing Disney movie Scandalous John including casting, reviews, fun facts and more. I hope you find this listing informative and helpful!
Scandalous John Description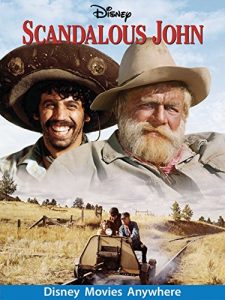 "Scandalous John" is a Disney live-action western film released in 1971. The movie is based on the novel "The Ballad of Scandalous John" by Ray Livingston and features a mix of comedy, drama, and adventure.
The story follows John McCanless, played by Brian Keith, a cantankerous and eccentric old rancher in the American Southwest. John is determined to protect his land from being taken over by a land development company. When he learns that the company plans to build a dam that will flood his property, he becomes even more determined to fight against it.
To make his point, John decides to stage a bank robbery in which he pretends to be a notorious outlaw. However, his plan goes awry when he accidentally becomes a real bank robber and finds himself on the run from the law. Along the way, he is joined by a young boy named Chris, played by Alfonso Arau, who becomes his unlikely sidekick.
As they evade the authorities, John and Chris form a bond and become friends. The movie explores themes of friendship, loyalty, and the importance of standing up for what is right. It also highlights the struggle between progress and tradition as John fights to preserve his way of life and the land he loves.
"Scandalous John" received mixed reviews from critics upon its release. Some praised the performances and the heartwarming moments, while others felt that the film lacked focus and had an uneven tone. Despite the mixed critical reception, the movie remains a cult classic among Disney fans and western film enthusiasts.
Over the years, "Scandalous John" has become a lesser-known entry in Disney's live-action film catalog, but it still holds a nostalgic charm for those who remember it fondly. The film showcases the classic storytelling elements that Disney is known for, and its blend of comedy and drama makes it an entertaining family-friendly watch.
---
Scandalous John Cast:
Brian Keith: John McCanless
Alfonso Arau: Paco
Michele Carey: Amanda McCanless
Rick Lenz: Jimmy Whittaker
Harry Morgan: Sheriff Pippen
Iris Adrian: Mavis
Simon Oakland: Barton Whittaker
Bill Williams: Sheriff Hart
Christopher Dark: Card Dealer
Fran Ryan: Farm Woman
Bruce Glover: Sludge
Richard Hale: Old Indian
Jimmy Lydon: Grotch
John Ritter: Wendell
Larry D. Mann: Bartender
Jack Raine: Switchman
Booth Colman: Governor Murray
Edward Faulkner: Hillary
Bill Zuckert: Abernathy
John Zaremba: Wales
Robert Padilla: Paco's Cousin
Alex Tinne: Clerk
Benny Baker: Dr. Kropak
Paul Koslo: Pipes
William O'Connell: Men's Store Clerk
Sam Edwards: Bald Man
Leone Stevens: Girl
José Nieto: Mariachi Band
Joseph Gutierrez: Mariachi Band
Freddie Hernandez: Mariachi Band
Sondra Currie: Saloon Girl
---
Scandalous John Crew:
Director: Robert Butler
Producer: Bill Walsh
Music: Rod McKuen
---
Scandalous John Details
Scandalous John Trailer:
---