Here is everything you need to know about the amazing Disney movie Secret of the Wings including casting, reviews, fun facts and more. I hope you find this listing informative and helpful!
Secret of the Wings Description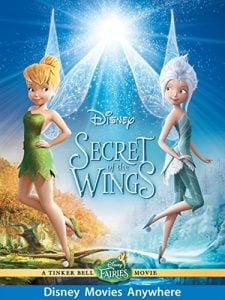 "Secret of the Wings" is a 3D computer-animated fantasy film produced by DisneyToon Studios. It was released as part of the Disney Fairies franchise in 2012. The movie is the fourth installment in the Tinker Bell film series, following "Tinker Bell" (2008), "Tinker Bell and the Lost Treasure" (2009), and "Tinker Bell and the Great Fairy Rescue" (2010).
Directed by Peggy Holmes and Bobs Gannaway, "Secret of the Wings" takes viewers on a magical journey into the mysterious Winter Woods, where Tinker Bell, the iconic fairy from Peter Pan's universe, ventures for the first time. Despite the strict rule that warm-weather fairies like Tinker Bell are not allowed in the Winter Woods, she is irresistibly drawn to the enchanting and mysterious land.
In the Winter Woods, Tinker Bell discovers a magical secret that changes her life forever. She meets Periwinkle, a frost fairy who is her long-lost twin sister, separated from her at birth. The two sisters develop an instant bond, but their union poses a challenge as the seasons clash and threatens the harmony of the fairy world.
As the story unfolds, Tinker Bell and Periwinkle work together to find a way to bridge the gap between the Winter Woods and Pixie Hollow, so they can be together and allow fairies from both realms to experience the wonders of each other's world.
"Secret of the Wings" explores themes of sisterhood, friendship, and the power of unity. The film also showcases the stunning animation of the Winter Woods, with its icy landscapes and magical elements.
The movie received positive reviews for its beautiful animation, engaging storyline, and heartwarming message. It was praised for its strong female characters and themes of loyalty and acceptance.
"Secret of the Wings" is a delightful addition to the Disney Fairies franchise, appealing to both children and adults with its charming characters and magical world. It continues to be a beloved film among fans of Tinker Bell and the enchanting realm of Pixie Hollow.
---
Secret of the Wings Cast:
Mae Whitman: Tinker Bell
Lucy Hale: Periwinkle
Timothy Dalton: Lord Milori
Jeff Bennett: Dewey
Lucy Liu: Silvermist
Raven-Symone: Iridessa
Megan Hilty: Rosetta
Pamela Adlon: Vidia
Angela Bartys: Fawn
Matt Lanter: Sled
Debby Ryan: Spike
Grey DeLisle: Gliss
Rob Paulsen: Bobble
Jeff Bennett: Clank
Jane Horrocks: Fairy Mary
Jodi Benson: Healing Fairy
Kari Wahlgren: Receptionist
Thomas Lennon: Reading Fairy
Ben Diskin: Slush
Jesse McCartney: Terence
Jeff Bennett: Fairy Gary
Kathy Najimy: The Minister of Summer
John DiMaggio: The Minister of Autumn
Steve Valentine: The Minister of Spring
Dee Bradley Baker: Cheese / Fiona / Blaze
Anjelica Huston: Queen Clarion
---
Secret of the Wings Crew:
Director: Peggy Holmes
Producer: Makul Wigert
Music: Joel McNeely
---
Secret of the Wings Details
Secret of the Wings Trailer:
---