Here is everything you need to know about the amazing Disney movie Secretariat  including casting, reviews, fun facts and more. I hope you find this listing informative and helpful!
Secretariat  Description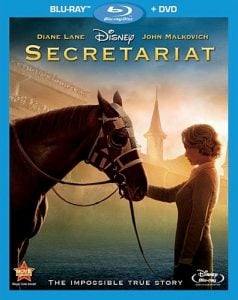 Behind every legend lies an impossible dream. Witness the spectacular journey of an incredible horse named Secretariat and the moving story of his unlikely owner, a housewife who risked everything to make him a champion.
---
Secretariat  Cast:
Diane Lane: Penny Chenery
John Malkovich: Lucien Laurin
Otto Thorwarth: Ron Turcotte
Margo Martindale: Elizabeth Hamm
Amanda Michalka: Kate Tweedy
Graham McTavish: Earl Jansen
Kevin Connolly: Bill Nack
Carissa Capobianco: Sarah Tweedy
Drew Roy: Seth Hancock
Scott Glenn: Christopher Chenery
James Cromwell: Ogden Phipps
Nelsan Ellis: Eddie Sweat
Dylan Walsh: John Tweedy
Fred Dalton Thompson: Bull Hancock
Eric Lange: Andy Beyer
Dylan Baker: Hollis B. Chenery
Stephen Stanton: Chic Anderson
Nestor Serrano: Pancho Martin
Secretariat  Details
Secretariat  Trailer:
Buy Movie
---
---