Here is everything you need to know about the amazing Touchstone Pictures movie Shanghai Noon including casting, reviews, fun facts and more. I hope you find this listing informative and helpful!
Shanghai Noon Description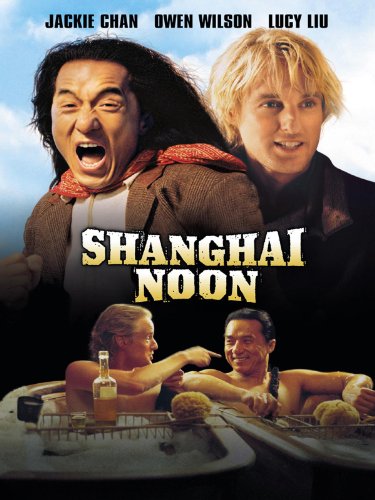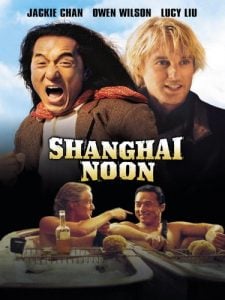 Two cultures collide when East meets West in SHANGHAI NOON, a wildly hilarious, stunt-filled action-adventure comedy starring the death-defying action hero Jackie Chan, Owen Wilson, and Lucy Liu. Chan plays Chinese Imperial Guard Chon Wang (say it out loud) who hightails it to the wild and woolly West to rescue the beautiful kidnapped Princess Pei Pei (Liu). When he meets up with the laid-back outlaw cowboy dude Roy O'Bannon (Wilson) — the best mismatch ever made in the rough and tumble Old West — the two face jail, brawls, bordellos, and the vilest villains this side of the Great Wall! Spectacular stunts, outrageous irreverence, and epic vistas reign as East meets West in a battle for honor, royalty, and a fortune in gold! It's a real kick!
---
Shanghai Noon Cast:
Jackie Chan: Chon Wang
Owen Wilson: Roy O'Bannon/Wyatt Earp
Lucy Liu: Princess Pei-Pei
Brandon Merrill: Falling Leaves
Xander Berkeley: Marshal Nathan Van Cleef
Roger Yuan: Lo Fong
Kate Luyben: Fifi
Jason Connery: Calvin Andrews
Simon R. Baker: Little Feather
Walton Goggins: Wallace
Henry O: Royal Interpreter
Yu Rongguang: Imperial Guard Rong Guang Yu
Eric Chen: Imperial Guard Eric Chi Cheng Chen
---
Shanghai Noon Crew:
Director: Tom Dey
Producers: Roger Birnbaum, Gary Barber and Jonathan Glickman
Writers: Alfred Gough and Miles Millar
---
Shanghai Noon Details
Shanghai Noon Trailer:
---