Here is everything you need to know about the amazing Hollywood Pictures movie Son in Law including casting, reviews, fun facts and more. I hope you find this listing informative and helpful!
Son in Law Description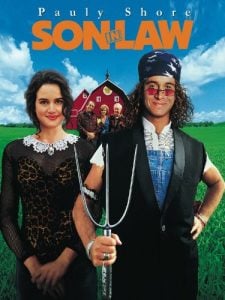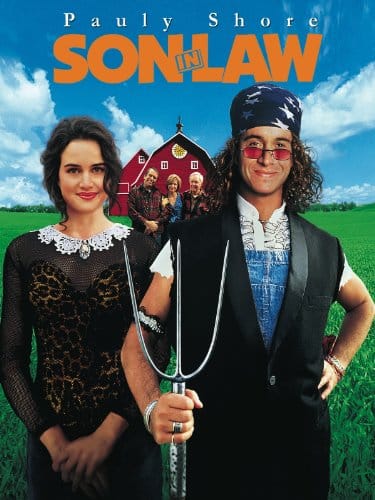 "Son in Law" is a comedy film released in 1993, directed by Steve Rash. The movie stars Pauly Shore as Crawl, a laid-back and unconventional college student, and Carla Gugino as Rebecca Warner, a small-town farm girl from South Dakota.
The story follows Rebecca, who leaves her rural hometown to attend college in Los Angeles. During her first semester, she feels overwhelmed and homesick, struggling to adjust to the fast-paced city life and college culture.
When Thanksgiving break arrives, Rebecca's best friend, Walter (Patrick Renna), invites her to come home with him. On a whim, she brings along Crawl, her quirky and eccentric college friend, to pose as her fiancé to fend off the advances of an unwanted suitor.
Once in South Dakota, Crawl's urban personality and unconventional behavior clash with the traditional and conservative values of Rebecca's family, particularly her overprotective father, Walter Warner Sr. (played by Lane Smith).
As the charade continues, Crawl gradually wins over Rebecca's family with his humor and carefree nature. He also helps Rebecca reconnect with her roots and find the confidence to stand up for herself.
"Son in Law" is a light-hearted and feel-good comedy that celebrates the clash of cultures and the power of friendship. Pauly Shore's comedic flair and Carla Gugino's endearing portrayal of Rebecca make for an entertaining and heartwarming on-screen duo.
The film's humor revolves around the comedic contrast between Crawl's urban sensibilities and the rural traditions of Rebecca's family, leading to several comedic mishaps and misunderstandings.
"Son in Law" received mixed reviews from critics but has gained a following among fans of 1990s comedy. The film's focus on friendship, self-discovery, and embracing one's true identity resonates with audiences seeking a fun and nostalgic comedy experience.
---
Son in Law Cast:
Pauly Shore: Fred/"Crawl"
Carla Gugino: Rebecca "Becca" Warner
Lane Smith: Walter Warner
Cindy Pickett: Connie Warner
Mason Adams: Walter Warner, Sr.
Patrick Renna: Zack Warner
Dennis Burkley: Theo
Tiffani Thiessen: Tracy
Dan Gauthier: Travis
---
Son in Law Crew:
Director: Steve Rash
Producers: Peter Lenkov and Michael Rotenberg
Screenplay: Fax Bahr, Adam Small and Shawn Schepps
---
Son in Law Details
Son in Law Trailer:
---