Here is everything you need to know about the amazing Touchstone Pictures movie Splash  including casting, reviews, fun facts and more. I hope you find this listing informative and helpful!
Description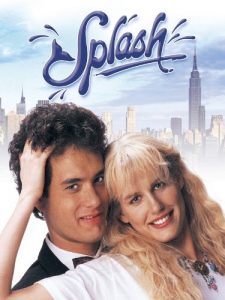 "Splash" is a charming romantic comedy fantasy film released by Touchstone Pictures in 1984, directed by Ron Howard. The film tells the story of a man who falls in love with a mysterious woman who happens to be a mermaid.
The movie begins with a young boy named Allen Bauer, played by Tom Hanks, who is saved from drowning by a mermaid named Madison, portrayed by Daryl Hannah. The encounter leaves a lasting impression on Allen, and years later, as an adult, he returns to the same beach where they first met. To his surprise, he finds Madison again, and they quickly form a connection.
However, Allen soon discovers Madison's secret: she is indeed a mermaid. Despite this revelation, the two fall deeply in love. As their relationship deepens, Allen must grapple with the challenges of dating a mermaid, including the need to keep her true identity hidden from the world.
The film blends humor, romance, and fantasy elements, creating a heartwarming and magical experience for the audience. Tom Hanks and Daryl Hannah have excellent on-screen chemistry, making their characters' love story all the more captivating.
"Splash" explores themes of love, acceptance, and the courage to embrace the unknown. The film also delves into the complexities of relationships and the sacrifices people are willing to make for love.
Ron Howard's direction brings a delightful and imaginative touch to the movie, blending the everyday world with a touch of fantasy. The supporting cast, including Eugene Levy as the quirky Dr. Walter Kornbluth and John Candy as Allen's eccentric brother Freddie, adds comedic flair to the story.
With its endearing characters, enchanting love story, and a blend of comedy and fantasy, "Splash" became a commercial success and a beloved classic. It remains one of the most beloved romantic comedies of the 1980s and is cherished for its heartwarming tale of love transcending boundaries.
---
Splash  Fun Facts
"Splash" marked Tom Hanks' first leading role in a feature film, and it helped establish him as a rising star in Hollywood.
The movie was produced by Disney's Touchstone Pictures, and it was one of the first films released under the Touchstone banner, aimed at a more mature audience.
The iconic poster for "Splash" features Daryl Hannah as Madison in a mermaid form, covered with her long blonde hair, which became an instantly recognizable image.
The character of Madison was inspired by Hans Christian Andersen's fairy tale "The Little Mermaid."
The underwater scenes in the film were shot in a massive water tank that was specially constructed for the production. It allowed the actors to perform their scenes underwater while being surrounded by professional divers and safety equipment.
John Candy, a frequent collaborator with director Ron Howard, portrayed Allen's best friend, Freddie Bauer, providing comedic relief throughout the film.
"Splash" received an Academy Award nomination for Best Original Screenplay, written by Lowell Ganz and Babaloo Mandel.
The success of "Splash" led to the creation of a spin-off TV series called "Splash, Too," which aired in 1988 and continued the story of the film.
---
Cast:
Tom Hanks: Allen Bauer
David Kreps: Young Allen
Daryl Hannah: Madison
Shayla MacKarvich: Young Madison
John Candy: Freddie Bauer
Jason Late: Young Freddie
Eugene Levy: Dr. Walter Kornbluth
Jeff Doucette: Junior
David Knell: Claude
Royce D. Applegate: Buckwalter
Dody Goodman: Mrs. Stimler
Howard Morris: Dr. Zidell
Richard B. Shull: Dr. Ross
Shecky Greene: Mr. Buyrite
Bobby Di Cicco: Jerry
Patrick Cronin: Michaelson
Tony Longo: Augie
Nora Denney: Mrs. Stein
Joe Grifasi: Manny
Charles Macaulay: President
Lee Delano: Sergeant Leleandowski
Migdia Chinea Varela: Wanda
Eileen Saki: Dr. Fujimoto
Jodi Long: Reporter
Patrick O'Rorke: Boy on Pier
Bill Smitrovich: Ralph Bauer
Than Wyenn: Mr. Ambrose
---
Crew:
Director: Ron Howard
Producer: Brian Grazer
---
Additional Details
Movie Studio: Touchstone Pictures
Year Released: 1984
Type of Movie: Live Action
Box Office: $69.8 million
Awards: Nominated Academy Award; Nominated Golden Globe
---
Splash  Trailer:
---