Here is everything you need to know about the amazing Hollywood Pictures movie Stay Alive including casting, reviews, fun facts and more. I hope you find this listing informative and helpful!
Stay Alive Description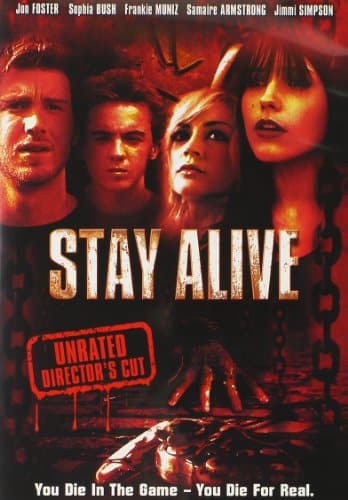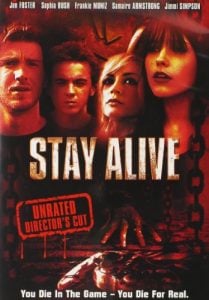 Get ready for supernatural chills and terrifying challenges in STAY ALIVE, the mind-bending thriller about a killer video game. The real world and the game world gruesomely collide when a group of friends play STAY ALIVE, a mysterious underground video game that kills the gamer whose character dies in play. Inspired by the shocking true story of the 17th century serial killer known as the Blood Countess, the video game gives disturbing new meaning to the phrase "game over." In a death defying race against time, the survivors must solve the mystery of the game while desperately trying to stay alive.
---
Stay Alive Cast:
Jon Foster: Hutch
Frankie Muniz: Swink
Samaire Armstrong: Abigail
Jimmi Simpson: Phineus
Sophia Bush: October
Wendell Pierce: Detective Thibodeaux
Rio Hackford: Detective King
Milo Ventimiglia: Loomis Crowley
Adam Goldberg: Miller Banks
Maria Kalinina: Countess
Billy Slaughter: Rex
Nicole Oppermann: Sarah
James Haven: Jonathan Malkus
Alice Krige: the Author
---
Stay Alive Crew:
Director: William Brent Bell
Producers: McG, Peter Schlessel, James D. Stern and Matthew Peterman
Writer: William Brent Bell and Matthew Peterman
---
Stay Alive Details
Stay Alive Trailer:
---