Here is everything you need to know about the amazing Hollywood Pictures movie Straight Talk including casting, reviews, fun facts and more. I hope you find this listing informative and helpful!
Straight Talk Description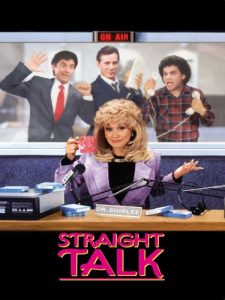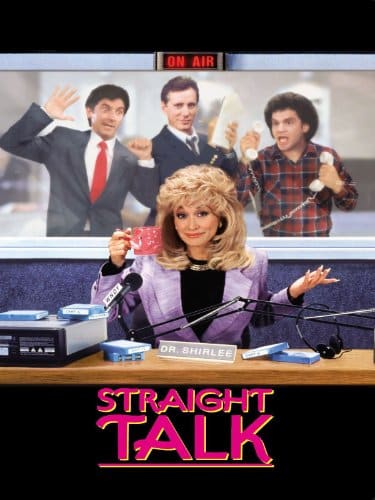 "Straight Talk" is a romantic comedy film released in 1992, directed by Barnet Kellman. The movie stars Dolly Parton as Shirlee Kenyon and James Woods as Jack Russell.
The story follows Shirlee Kenyon, a small-town woman with big dreams of becoming a successful radio talk show host. When she loses her job as a dance instructor, she moves to the city of Chicago in pursuit of her passion.
By a twist of fate, Shirlee stumbles into a radio station and is mistaken for a radio psychologist. The station owner, Jack Russell, hires her on the spot, believing she has the qualifications for the job.
Despite her lack of experience, Shirlee's straightforward and genuine advice resonates with listeners, and her show becomes an instant hit. As her popularity grows, she also catches the attention of Jack, who begins to fall for her.
As Shirlee navigates her newfound fame and her blossoming romance with Jack, she must confront the truth about her real identity and decide whether to continue the charade or reveal the truth to everyone.
"Straight Talk" is known for its feel-good humor, Dolly Parton's charming performance, and the chemistry between the lead actors. The film celebrates the importance of honesty, authenticity, and following one's dreams.
The movie received mixed reviews from critics but has become a touchstone for fans of lighthearted romantic comedies with a dose of heartwarming messages.
"Straight Talk" serves as a touchstone for viewers seeking an entertaining and uplifting romantic comedy that delivers a positive message about the power of being true to oneself and the importance of finding love and success in unexpected ways.
---
Straight Talk Cast:
Dolly Parton: Shirlee Kenyon
James Woods: John "Jack" Russell
Griffin Dunne: Alan Riegert
Michael Madsen: Steve
Philip Bosco: Gene Perlman
Jerry Orbach: Milo Jacoby
Deirdre O'Connell: Lily
John Sayles: Guy Girardi
Teri Hatcher: Janice
Spalding Gray: Dr. David Erdman
Amy Morton: Ann
Charles Fleischer: Tony
Keith MacKechnie: Gordon
Jay Thomas: Zim Zimmerman
Paula Newsome: Ellen
Tracy Letts: Sean
John Gegenhuber: Waiter
---
Straight Talk Crew:
Director: Barnet Kellman
Producers: Carol Baum, Fred Berner, Robert Chartoff and Howard Rosenman
Writer: Craig Bolotin
---
Straight Talk Details
Straight Talk Trailer:
---