Here is everything you need to know about the amazing Disney movie That Darn Cat!  including casting, reviews, fun facts and more. I hope you find this listing informative and helpful!
That Darn Cat!  Description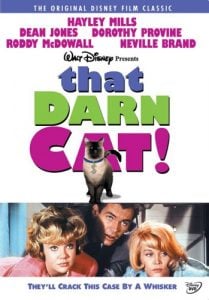 When the irrepressible and always hungry D.C. (Darn Cat) turns up with a wristwatch for a collar, it becomes a tip-off to an unsolved robbery and kidnapping. You don't know who's tailing who as nosy neighbors, jealous boyfriends, and a highly allergic FBI agent play a game of cat and mouse to crack the baffling case.
---
That Darn Cat!  Cast:
Hayley Mills: Patricia "Patti" Randall
Dean Jones: FBI Agent Zeke Kelso
Dorothy Provine: Ingrid Randall
Roddy McDowall: Gregory Benson
Neville Brand: Dan
Frank Gorshin: Iggy
Elsa Lanchester: Mrs. MacDougall
William Demarest: Mr. Wilmer MacDougall
Tom Lowell: Canoe Henderson
Ed Wynn: Mr. Hofstedder the Jeweller
Richard Eastham: FBI Supervisor Mr. Newton
Liam Sullivan: Agent Graham
Grayson Hall: Ms. Margaret Miller
Iris Adrian: Mrs. Tabin the Landlady
Richard Deacon: the drive-in theater manager
Ben Lessy: Burton the drive-in concessionaire
Don Dorrell: Spires
Gene Blakely: Cahill
Karl Held: Kelly
That Darn Cat!  Details
That Darn Cat!  Trailer:
Buy Movie
---
---