Here is everything you need to know about the amazing Disney movie The Barefoot Executive  including casting, reviews, fun facts and more. I hope you find this listing informative and helpful!
The Barefoot Executive  Description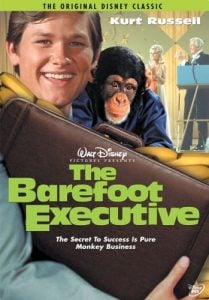 In Disney's The Barefoot Executive , a young Kurt Russell stars as Steven Post – an ambitious mailroom clerk at a second-rate TV network. With his eye on the boardroom, and getting nowhere with the studio's top dog, he makes a career-changing discovery. His girlfriend's lovable pet chimp can pick a hit show every time! His secret for success turns into madcap monkey business when he makes vice president and jealous rivals want in on the act.
---
The Barefoot Executive  Cast:
Kurt Russell: Steven Post
Joe Flynn: Francis X. Wilbanks
Harry Morgan E.J. Crampton
Wally Cox: Mertons
Heather North: Jennifer Scott
Alan Hewitt: Farnsworth
Hayden Rorke: Clifford
John Ritter: Roger
Jack Bender: Tom
Tom Anfinsen: Dr. Schmidt
George N. Neise: Network Executive
Ed Reimers: Announcer
Morgan Farley: Advertising Executive
Glenn Dixon: Sponsor
Robert Shayne: Sponsor
Tris Coffin: Sponsor
James B. Douglas: Network Executive
Ed Prentiss: Harry
Fabian Dean: Jackhammer Man
Iris Adrian: Woman Shopper
Smilin' Jack Smith: Clathworthy
Eve Brent: Mrs. Crampton
Sandra Gould: Mrs. Wilbanks
James Flavin: Father O'Leary
Peter Renaday: Policeman
Judson Pratt: Policeman
Vince Howard: Policeman
Hal Baylor: Policeman
Bill Daily: Navigator
Dave Willock: Doorman
Anthony Teague: TV Salesman
Edward Faulkner: Reporter
The Barefoot Executive  Details
The Barefoot Executive  Trailer:
Buy Movie
---
---