Here is everything you need to know about the amazing Disney movie The Castaway Cowboy  including casting, reviews, fun facts and more. I hope you find this listing informative and helpful!
The Castaway Cowboy  Description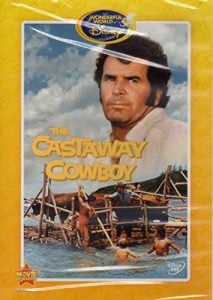 In Disney's The Castaway Cowboy, Lincoln Costain, a mid-19th century Texan cowboy, is shanghaied and placed aboard a ship bound for Hawaii. After he jumps ship off the coast of Kauai, a 12-year-old-boy rescues him from drowning. While Lincoln waits for a way to return home, he decides to help the boy's mother's failing potato plantation by turning it into a cattle ranch. But first, he must outwit an unscrupulous businessman, outfight an evil witch doctor and turn the easy-going islanders into the ridin' and ropin' cowpokes.
---
The Castaway Cowboy  Cast:
James Garner: Lincoln Costain
Vera Miles: Henrietta MacAvoy
Eric Shea: Booton 'Little Maca' MacAvoy
Robert Culp: Calvin Bryson
Elizabeth Smith: Liliha
Manu Tupou: Kimo
Gregory Sierra: Marruja
Shug Fisher: Capt. Cary
Nephi Hannemann: Malakoma
Lito Capiña: Leleo
Ralph Hanalei: Hopu
Kim Kahana: Oka
Lee Woodd: Palani
Luis Delgado: The Hatman
Buddy Joe Hooker: Boatman
Patrick Sullivan Burke: Sea captain
Jerry Velasco: Hawaiian cowboy
The Castaway Cowboy  Details
Buy Movie
---
---