Here is everything you need to know about the amazing Touchstone Pictures movie The Crew including casting, reviews, fun facts and more. I hope you find this listing informative and helpful!
The Crew Description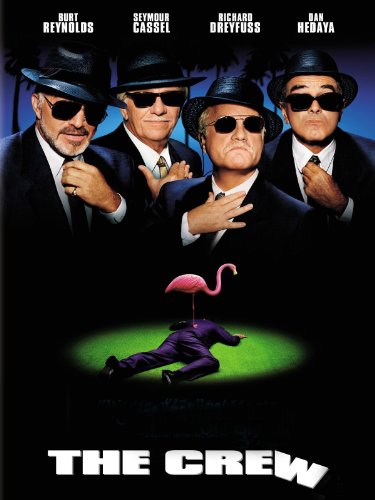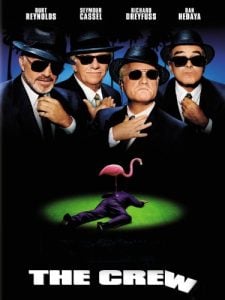 Loaded with laughs, THE CREW features Academy Award(R)-winner Richard Dreyfuss and Burt Reynolds in a sidesplitting story about a set of golden-year goodfellas fighting to protect their last piece of turf! Back in the days when mobsters were larger than life, none lived bigger than Bobby (Dreyfuss), "Bats" (Reynolds), "The Brick" (Dan Hedaya and "Mouth" (Seymour Cassel) But now well into retirement, the old crew find themselves suddenly facing eviction from their run-down Miami Beach hotel — The Raj Mahal. That's when they decide there's only one thing left to do — turn back the clock and pull one last hit in order to save their home! As their wacky plot unfolds, you'll happily laugh along when these grandfatherly gangsters set off a hilarious chain of events that quickly spins outrageously out of control.
---
The Crew Cast:
Richard Dreyfuss: Bobby Bartellemeo
Casey Siemaszko: Young Bobby
Burt Reynolds: Joey "Bats" Pistella
Matthew Borlenghi: Young Joey "Bats"
Dan Hedaya: Mike "The Brick" Donatelli
Jeremy Ratchford: Young Mike "The Brick"
Seymour Cassel: Tony "Mouth" Donato
Billy Jayne: Young Tony "Mouth"
Carrie-Anne Moss: Detective Olivia Neal
Jeremy Piven: Detective Steve Menteer
Jennifer Tilly: Maureen "Ferris" Lowenstein
Lainie Kazan: Pepper Lowenstein
Miguel Sandoval: Raul Ventana
Samantha Kurzman: Young Olivia
Jose Zuniga: Escobar
Mike Moroff: Jorge
Carlos Gomez: Miguel
Louis Lombardi, Jr.: Jimmy Whistles
Frank Vincent: Marty
Louis Guss: Jerry "the Hammer" Fungo
---
The Crew Crew:
Director: Michael Dinner
Producer: Barry Sonnenfeld
Writer: Barry Fanaro
---
The Crew Details
The Crew Trailer:
---