Here is everything you need to know about the amazing Hollywood Pictures movie The Distinguished Gentleman including casting, reviews, fun facts and more. I hope you find this listing informative and helpful!
The Distinguished Gentleman Description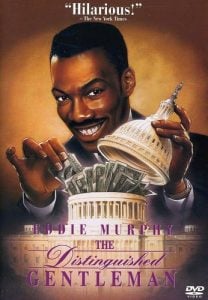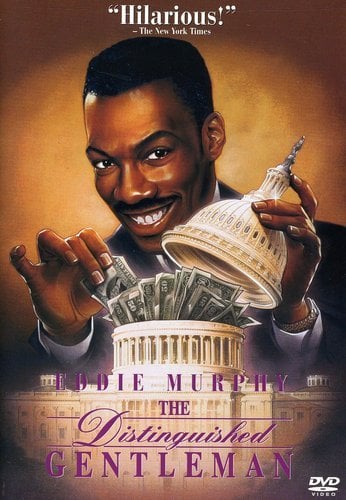 "The Distinguished Gentleman" is a comedy film released in 1992, directed by Jonathan Lynn. The movie stars Eddie Murphy as Thomas Jefferson Johnson, a con artist who decides to run for Congress.
The story follows Thomas Jefferson Johnson, a fast-talking con artist who capitalizes on the name recognition of a deceased congressman named Jefferson Johnson to run for Congress in a special election. He realizes that voters often choose candidates based on familiar names rather than their qualifications.
As Johnson enters the political arena, he uses his street smarts and charisma to win over voters and gain support from influential politicians and interest groups. Along the way, he discovers the inner workings of Washington, D.C., and the temptations and corruption that come with power.
"The Distinguished Gentleman" is known for Eddie Murphy's comedic talent and the film's satirical take on the world of politics. It explores themes of political manipulation, public perception, and the influence of money in the political process.
The movie received mixed reviews from critics, with praise for Eddie Murphy's performance but criticism for its predictable plot. However, it has found a following among fans of political satire and those who appreciate Eddie Murphy's comedic style.
"The Distinguished Gentleman" serves as a touchstone for viewers seeking a humorous and light-hearted take on the world of politics, as well as a reflection on the absurdities and realities of the political landscape. It offers an entertaining look at the art of persuasion and the lengths some individuals may go to achieve their ambitions in the political sphere.
---
The Distinguished Gentleman Cast:
Eddie Murphy: Thomas Jefferson Johnson
Lane Smith: Dick Dodge
Sheryl Lee Ralph: Miss Loretta
Joe Don Baker: Olaf Andersen
James Garner: Jeff Johnson
Victoria Rowell: Celia Kirby
Grant Shaud: Arthur Reinhardt
Kevin McCarthy: Terry Corrigan
Charles S. Dutton: Elijah Hawkins
Victor Rivers: Armando
Chi McBride: Homer
Sonny Jim Gaines: Van Dyke
Noble Willingham: Zeke Bridges
---
The Distinguished Gentleman Crew:
Director: Jonathan Lynn
Producers: Marty Kaplan, Leonard Goldberg and Michael Peyser
Writer: Marty Kaplan and Jonathan Reynolds
---
The Distinguished Gentleman Details
The Distinguished Gentleman Trailer:
---