Here is everything you need to know about the amazing Hollywood Pictures movie The Hand That Rocks the Cradle including casting, reviews, fun facts and more. I hope you find this listing informative and helpful!
The Hand That Rocks the Cradle Description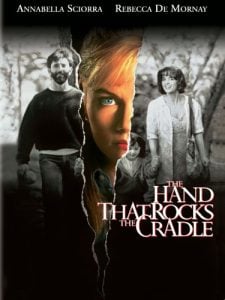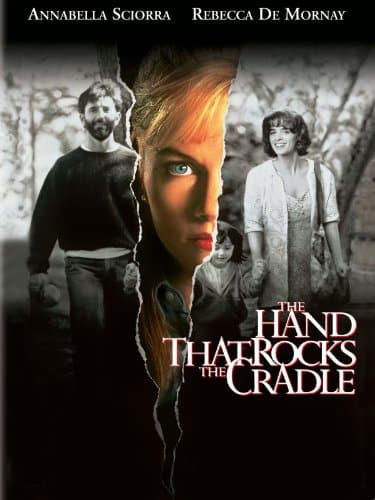 "The Hand That Rocks the Cradle" is a psychological thriller film released in 1992, directed by Curtis Hanson. The movie stars Annabella Sciorra as Claire Bartel and Rebecca De Mornay as Peyton Flanders.
The story follows Claire Bartel, a happily married woman who becomes pregnant with her second child. However, her life takes a dark turn when she hires Peyton Flanders as a live-in nanny to care for her young daughter.
Unbeknownst to Claire, Peyton is seeking revenge for a tragedy that she believes Claire's husband, Michael (played by Matt McCoy), caused in her own life. Under the guise of being a caring and devoted nanny, Peyton begins to manipulate and terrorize Claire, intent on destroying her family and taking everything she holds dear.
As the tension and danger escalate, Claire becomes increasingly suspicious of Peyton's intentions and must confront the truth about her nanny before it's too late.
"The Hand That Rocks the Cradle" is known for its suspenseful and intense storytelling, as well as the powerful performances of Annabella Sciorra and Rebecca De Mornay. The film explores themes of betrayal, maternal instincts, and the darker aspects of human nature.
The movie received generally positive reviews from critics and was a commercial success, becoming a notable entry in the thriller genre of the early 1990s.
"The Hand That Rocks the Cradle" serves as a touchstone for viewers seeking a gripping and chilling psychological thriller that explores the sinister side of human relationships and the lengths some individuals will go to seek revenge and destroy the lives of others. It remains a compelling and suspenseful film that continues to captivate audiences with its disturbing portrayal of trust, manipulation, and maternal instincts.
---
The Hand That Rocks the Cradle Cast:
Annabella Sciorra: Claire Bartel
Rebecca De Mornay: Mrs. Mott
Matt McCoy: Michael Bartel
Ernie Hudson: Solomon
Julianne Moore: Marlene Craven
Madeline Zima: Emma Bartel
John de Lancie: Dr. Victor Mott
Kevin Skousen: Marty Craven
---
The Hand That Rocks the Cradle Crew:
Director: Curtis Hanson
Producer: David Madden
Writer: Amanda Silver
Music: Graeme Revell and James Horner
---
The Hand That Rocks the Cradle Details
The Hand That Rocks the Cradle Trailer:
---