Here is everything you need to know about the amazing Disney movie The Happiest Millionaire  including casting, reviews, fun facts and more. I hope you find this listing informative and helpful!
The Happiest Millionaire  Description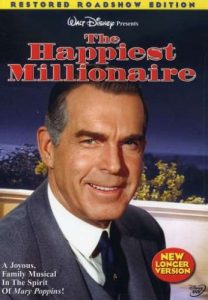 Pet alligators roaming the conservatory, A Bible-and-boxing school in the stables, and a delightfully eccentric millionaire make for unrestrained pandemonium in this musical Disney extravaganza! Fred MacMurray presides over a Philadelphia mansion where just about anything can happen in Disney's The Happiest Millionaire.
---
The Happiest Millionaire  Cast:
Fred MacMurray: Father
Greer Garson: Mother
Gladys Cooper: Aunt Mary
Geraldine Page: Mrs. Duke
Tommy Steele: John Lawless
Hermione Baddeley: Mrs. Worth
John Davidson: Angie
Lesley Ann Warren: Cordy
Paul Petersen: Tony
Eddie Hodges: Livingston
Joyce Bulifant: Rosemary
Sean McClory: Police Sgt.
Jim McMullan: Lt. Powell
William Wellman, Jr.: Lt. Grayson
Aron Kincaid: Walter Blakely
Larry Merrill: Charlie Taylor
Frances Robinson: Aunt Gladys
The Happiest Millionaire  Details
The Happiest Millionaire  Trailer:
Buy Movie
---
---