Here is everything you need to know about the amazing Disney movie The Million Dollar Duck  including casting, reviews, fun facts and more. I hope you find this listing informative and helpful!
Description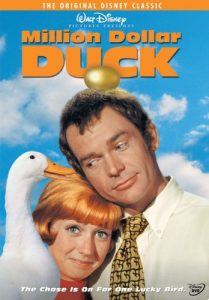 "The Million Dollar Duck" is a comedy film produced by Walt Disney Productions, released in 1971. The movie is directed by Vincent McEveety and stars Dean Jones, Sandy Duncan, and Joe Flynn.
The story revolves around a down-on-his-luck artist named Professor Albert Dooley (played by Dean Jones), who accidentally discovers that his pet duck can lay golden eggs after being exposed to radiation. As news of the golden-egg-laying duck spreads, Albert and his family find themselves dealing with the attention and pressure from various parties who want to exploit the duck for their own gain. The situation becomes even more complicated when government officials become involved, and chaos ensues as everyone tries to get their hands on the duck.
Sandy Duncan plays the role of Katie, Albert's wife, who tries to cope with the unexpected fortune and its consequences. Joe Flynn plays the role of Mr. Hooper, a scheming businessman who wants to use the duck for his own financial gain.
"The Million Dollar Duck" is a light-hearted and humorous film that combines elements of science fiction and family comedy. It explores themes of unexpected fortune, the consequences of sudden wealth, and the importance of family bonds. The film delivers entertaining and comical situations as various characters chase after the duck and its golden eggs.
Though not considered one of Disney's most iconic films, "The Million Dollar Duck" still retains a nostalgic charm for those who grew up watching it. It showcases the comedic talents of Dean Jones and Sandy Duncan and exemplifies the whimsical storytelling style that Disney was known for during that era.
Overall, "The Million Dollar Duck" is a fun and family-friendly film that offers light-hearted entertainment and memorable comedic moments. While it may not be as well-known as some other Disney classics, it remains a delightful watch for those seeking a dose of retro Disney magic and humor.
---
Cast:
Dean Jones: Albert Dooley
Sandy Duncan: Katie Dooley
Joe Flynn: Finley Hooper
Tony Roberts: Fred Hines
James Gregory: Rutledge
Lee Montgomery: Jimmy Dooley
Jack Kruschen: Doctor Gottlieb
Virginia Vincent: Eunice Hooper
Jack Bender: Arvin Wadlow
Billy Bowles: Orlo Wadlow
Sammy Jackson: Frisby
Arthur Hunnicutt: Mr. Purdham
Frank Wilcox: Bank Manager
Bryan O'Byrne: Bank Teller
Ted Jordan: Mr. Forbes
Bing Russell: Mr. Smith
Peter Renaday: Mr. Beckert
Frank Cady: Assayer
George O'Hanlon: Parking Attendant
Jonathan Daly: Carter
Hal Smith: Courthouse Guard
Edward Andrews: Morgan
---
Crew:
Director: Vincent McEveety
Producer: Bill Anderson
Music: Buddy Baker
---
Additional Details
---
The Million Dollar Duck  Trailer:
---