Here is everything you need to know about the amazing Disney movie The Nutcracker and the Four Realms  including casting, reviews, fun facts and more. I hope you find this listing informative and helpful!
Description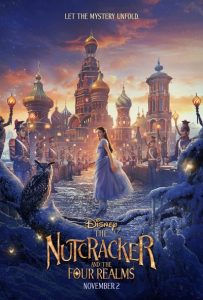 "The Nutcracker and the Four Realms" is a fantasy adventure film released in 2018 and produced by Walt Disney Pictures. Directed by Lasse Hallström and Joe Johnston, the movie is inspired by E.T.A. Hoffmann's classic story "The Nutcracker and the Mouse King" and Tchaikovsky's famous ballet "The Nutcracker."
The film follows the journey of Clara Stahlbaum, portrayed by Mackenzie Foy, who receives a mysterious egg-shaped box as a posthumous gift from her late mother on Christmas Eve. The box, which requires a special key to unlock, leads her to a magical parallel world known as the Four Realms. In this enchanting realm, Clara encounters various fantastical characters, including the Sugar Plum Fairy, the Nutcracker, and the villainous Mother Ginger.
Clara learns that the Four Realms are in turmoil, and she discovers that she is the only one who can bring balance back to this magical land. With the help of her newfound friends, Clara embarks on an epic quest to retrieve the key from the villain Mother Ginger and restore harmony to the realms.
"The Nutcracker and the Four Realms" combines elements of fantasy, adventure, and family drama to create a visually stunning and captivating cinematic experience. The film features elaborate and mesmerizing sets, enchanting costumes, and dazzling special effects that bring the magical world to life.
The stellar cast includes Keira Knightley as the Sugar Plum Fairy, Helen Mirren as Mother Ginger, and Morgan Freeman as Clara's godfather, Drosselmeyer. These acclaimed actors deliver captivating performances, adding depth and emotion to the characters.
With its dazzling visuals, mesmerizing performances, and a heartwarming story about family and self-discovery, "The Nutcracker and the Four Realms" offers a delightful and magical experience for audiences of all ages. The film's enchanting storytelling and stunning visuals make it a memorable addition to Disney's collection of classic fairy tale adaptations. Whether you're a fan of the original story, Tchaikovsky's ballet, or new to the world of "The Nutcracker," this movie is sure to captivate and entertain.
---
Cast:
Keira Knightley – Sugar Plum Fairy
Mackenzie Foy – Clara
Morgan Freeman – Drosselmeyer
Helen Mirren – Mother Ginger
Miranda Hart – Dew Drop Fairy
Misty Copeland – The Ballerina
---
Crew:
Directors: Joe Johnston, Lasse Hallström
Producers: Mark Gordon, Larry Franco, Lindy Goldstein
---
Additional Details
---
The Nutcracker and the Four Realms  Trailer:
---